February 14, 2013 | by Sadie Stein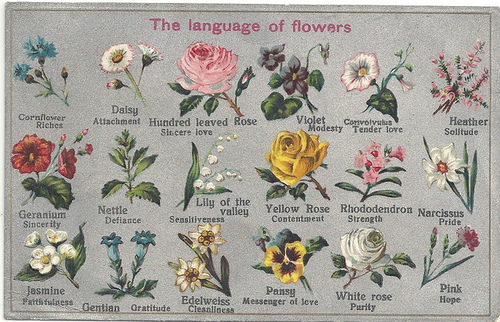 You'll view that bouquet with new eyes! See more here.
July 11, 2012 | by Eli Mandel
Sometimes in life you get yelled at. No matter your moral fiber, it can't be avoided all the time. It happens in Marine Corps boot camp; it happens in rush-hour subway cars; it happens if your mother catches you reading Lady Chatterly's Lover at an impressionable young age. But one place you don't expect to get harangued, one place where the lid's supposed to stay on the pot, is poetry.
So cracking open D. H. Lawrence's seemingly innocuous Birds, Beasts, Flowers is a bit of a shock. Lawrence is, of course, better known for his novels and short stories; verse can unleash in him an irritating Whitmanesque mania, an exhibitionist verbal autoeroticism. But that's not the case here. You flip past the title page and the index to the first poem, "Pomegranate," and before your eyes can adjust to the typeface, you're in trouble. Big trouble: