June 6, 2012 | by Stephen Hiltner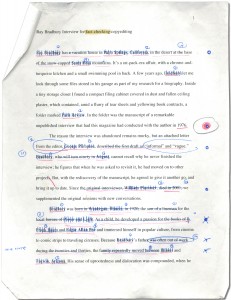 I didn't grow up reading The Paris Review. My earliest encounter with the magazine—I'm somewhat ashamed to admit—came in graduate school, when I stumbled upon an interview with Milan Kundera. (I was writing a paper on translation, and the quote I pulled didn't even make it into a footnote.) Had you asked me, a year or so later, when I found myself applying for an internship, what the magazine meant to me, I wouldn't have given you an honest answer. It didn't mean much of anything to me. I wanted a foot in the door in New York, and The Paris Review's seemed as good a door as any.
The latest issue, 191, had closed just before I started, so my first few weeks were quiet. I read submissions, delivered packages, distributed the mail. Then came my first real assignment: We were running an interview with Ray Bradbury, and it needed fact-checking. I volunteered.