June 26, 2014 | by Rowan Ricardo Phillips
My friend Jacob tends to be right about things. He has great taste in music; I find myself nodding my head at him whenever politics comes up; and when he laid out, like tarot cards, his hopes for this World Cup—as nearly all of my friends did before the start of the tournament—I couldn't help but think that his predictions would work for me, too. We'll have our parting of the ways soon enough: the Netherlands plays Mexico in a few days. The truth is, if Mexico wins, I'll be happy for him. And I like to think that if the Netherlands wins, he'll be happy for me, too.
Empathy like that provides balance in the world of blinding madness that sports can be. It's a particular type of immigrant upbringing, perhaps, that gives you an agnostic indifference to overdetermined allegiances—a hope that, regardless of what happens, there's beauty that comes from it, and an instructive joy to share and pass on.
So: I watch Bosnia for my friends Sasa and Veba, because Bosnia reminded me so much of them—committed, creative, pensive, puckish. Colombia for my aunt Claudia and her mother, Nelly. For Alejandra, and Beti and Marlon, Japan, because they always, and almost always impractically, propose to play beautifully, thinking this time they'll get it right. Algeria for Camus's ghost and for their players born in France, who heard the call to come back. Nigeria because Rashidi Yekini's goal at USA '94, Nigeria's first ever in a World Cup, touched me in some still inchoate way—and because few things in the world are better than a happy Teju Cole. Italy—despite the neutral hardwired animosity—for how Andrea Pirlo ambles on the field, far off from everyone's pace, seemingly alone, surrounded not by defenders but rather by his own genius. Costa Rica for sixty-five and a half years with no armed forces. Argentina for Messi—if only for Messi. Read More »
June 12, 2014 | by Rowan Ricardo Phillips & Jonathan Wilson
The World Cup begins now. Jonathan Wilson and Rowan Ricardo Phillips will write dispatches for The Daily; here, they introduce themselves and the games.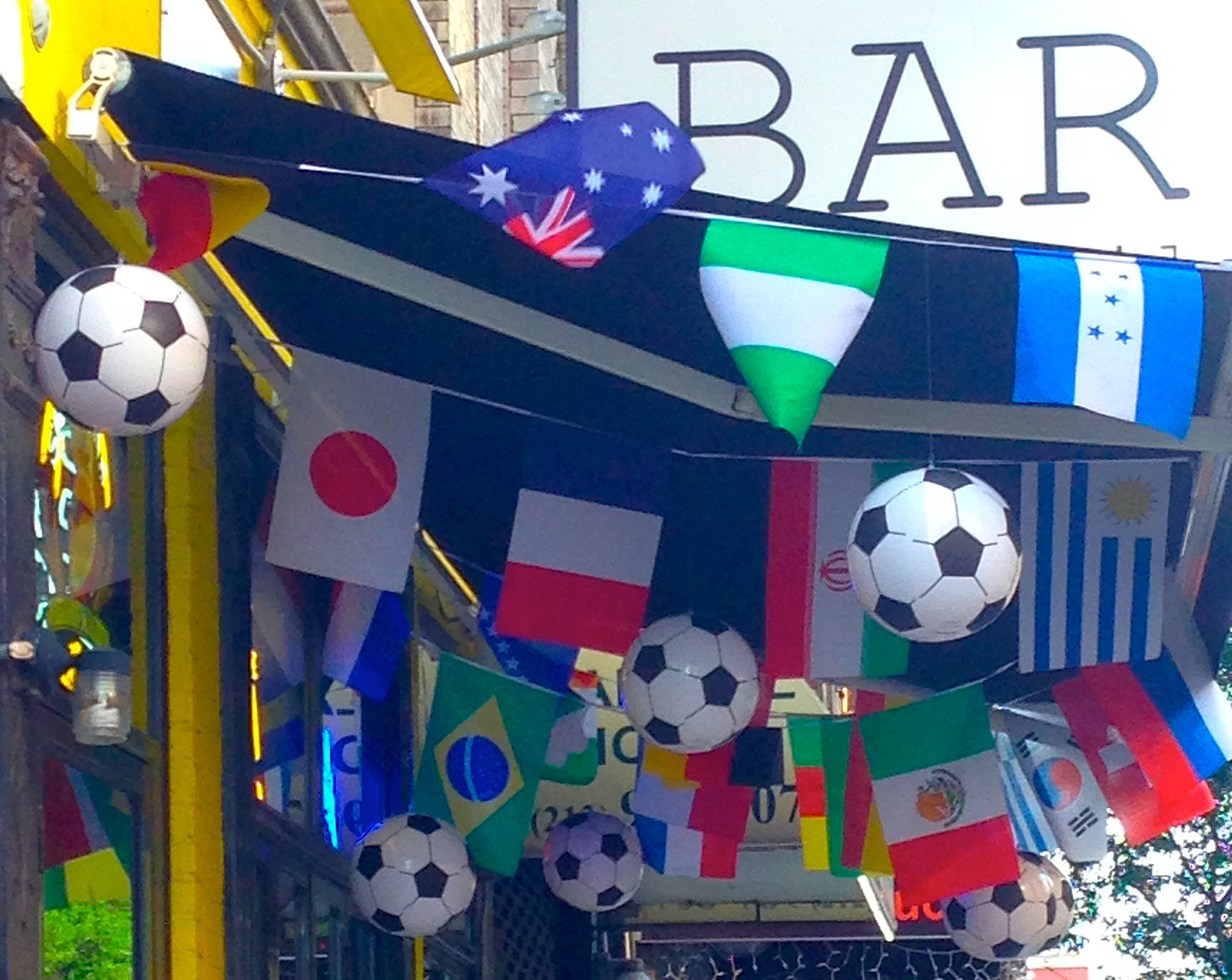 Jonathan Wilson, from London:
"All the new thinking is about loss. In this it resembles all the old thinking." That's Robert Hass, in the opening of his great poem "Meditation at Lagunitas." The lines resonate: earlier this week, before departing for the World Cup in Brazil, the U.S. national team coach Jurgen Klinsmann, who is German, asserted, "We cannot win the World Cup," and it didn't go down well. At least one pundit suggested that he should "get out of America."
In soccer-saturated London, where I arrived last week, Klinsmann's remarks might have elicited a more sympathetic response. England hasn't won the World Cup since 1966, and this year's team is generally considered transitional, unformed, untested. However, with the kind of twisted logic that applies to soccer supporters worldwide, the dominant "not a hope" take on England's chances has subtly transformed in recent days to a "well, there are no expectations, so the pressure's off, so in fact that could translate into improved performance, so hmm, well maybe, just maybe…"
England's manager, Roy Hodgson—who's a bit grumpy, has interesting hair, is undoubtedly the most literary figure England has ever employed (The Guardian reported that he read Laurent Binet's novel HHhH on the flight to Rio), and likes to rib the press about their obsessions with certain players and the hysterical pressure they exert on him to play them—recently succumbed to the dangerous new optimism. He announced that England was indeed capable of winning. Even so, (almost) all the new thinking is still about loss, and in this it resembles the thinking of populations in participating countries worldwide, unless you happen to be from Brazil or Argentina, or maybe Germany— although not so much now that their star midfielder, Marco Reus, has torn his ankle ligaments and is out for the duration.
This isn't to say that Brazil or Argentina must triumph, although no team from outside South America has ever won the World Cup when it has been played there, but simply that when it comes to international soccer, American over-optimism is rarely in evidence except for, as you might expect, in the minds and hearts of Americans. Nobody, of course, who knows anything at all about soccer, thinks that the U.S. can win the World Cup, and to compound matters the team is in a group of death with Ghana, Portugal, and Germany. In the furor over Klinsmann's remarks and his subsequent refusal to back down, I was reminded of the time that Ronald Reagan came on TV after he'd traded arms for hostages and announced that even though it looked like he'd done exactly that, in his heart he knew that he hadn't. American hearts can be frequently, powerfully, and touchingly resistant to reality. Read More »