Posts Tagged 'facial hair'
July 21, 2014 | by Sadie Stein
If you had asked me two days ago if there existed any Catholic-themed YouTube video stranger than the one where G. K. Chesterton battles a cartoonishly evil Nietzsche, I would have said, "Of course not." But that was before I saw this group of French feminists in beards paying tribute to Saint Wilgefortis.
Wilgefortis is described by the Catholic Encyclopedia as "a fabulous female saint known also as UNCUMBER, KUMMERNIS, KOMINA, COMERA, CUMERANA, HULFE, ONTCOMMENE, ONTCOMMER, DIGNEFORTIS, EUTROPIA, REGINFLEDIS, LIVRADE, LIBERATA, etc."; her attributes are listed as "bearded woman; depicted crucified, often shown with a small fiddler at her feet, and with one shoe off." Considered a "pious fiction"—that is, a sort of unofficial folktale—she enjoyed popularity throughout Europe. Before the Church removed her commemoration in '69, July 20 was her feast day.
Though her cult is thought to date to the fourteenth century, concrete details are sparse: generally, Wilgefortis is described as a young, Christian, sometimes Portuguese, occasionally septuplet princess who, rather than marry a pagan against her will, prayed for disfigurement. Her prayers were answered in the form of a beard. Her father, furious with this development, had her crucified. Nowadays, it's thought that the Wilgefortis story—as well as the related fiddler/shoe legend—evolved from a misinterpretation of the famous Volto Santo crucifixion sculpture in Lucca, Italy. The art historian Charles Cahier wrote, Read More »
December 3, 2012 | by Sadie Stein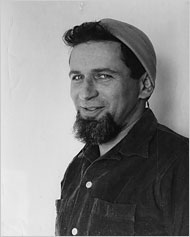 Did you know that Norman Mailer once affected a bohemian goatee? Well, he did.
[tweetbutton]
[facebook_ilike]