Posts Tagged 'Eugène Ionesco'
February 27, 2015 | by Gideon Jacobs
On Songbook, Alec Soth's new photobook.
If you follow the gaze of every shopper pictured in Alec Soth's photograph of a crowded Walmart in North Dakota, you end up nowhere. The scene of big-box-store mayhem would have you think it's Black Friday or Super Bowl Sunday morning or the peak of the shelf-clearing shopping spree that is sure to precede doomsday. But in Williston, the city at the center of the oil boom that has afforded North Dakota the lowest unemployment rate in the country, this was just commerce as usual. It was a national story a few years ago: word spread fast that some incarnation of the American Dream was up for grabs in North Dakota, and scores of men and women from all over the U.S. loaded up the family van and set course for the Peace Garden State. 
With this mind, it can be tempting to read Soth's photograph—the empty shopping carts, the sweatpants in public, the claustrophobia-inducing crowd—as acutely tragic. The journey to a new and better life ends here? There are consumer traffic jams in the promised land? The streets aren't paved with gold but with some sort of linoleum-vinyl composite? Read More »
December 20, 2011 | by Adam Thirlwell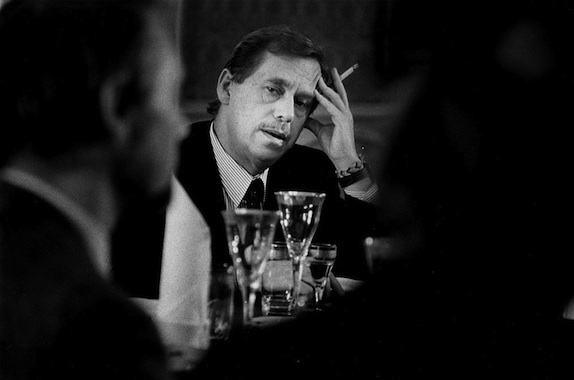 My first memory of Václav Havel is of watching the news as a kid, after the Hanna-Barbera cartoons, and seeing pictures of Havel in his living room: a prison of stuffed bookshelves. For me, Havel was the image of a literary hero, an ideal of literature as integrity.
I've always, in other words, been a sucker for the questions of Prague—especially Prague in the era of Soviet Communism, probably because these questions all relate to a larger problem: a writer's responsibility and resistance to political life, the serious business of being flippant. In the setups of his farcical plays and—following his imprisonment in 1977 for involvement in a human-rights charter—through the patient linguistic analysis of his essays, Havel's subject was always the same: how language can be made to connive in unreality. But he also believed that words could be renovated, that a politics was possible. And this hope led him, for instance, to the courage of the following statement in his 1977 trial: there were certain words, he said, "which recur continually in the indictment and which one would describe as loaded, words like subversion, lies, malice, illegal organizations, anticommunist centers, vilification, hatred and so on. However, when one looks closely at these words, one finds that there is nothing behind them." Just as it made him read Bellow's libertine Herzog, in prison, in these dissident terms: "A professional with 'words' goes mad in a situation where words have no weight. He clearly lacks what we do not, which is to say a situation in which words have so much weight that you must pay quite dearly for them."
This was why, in the summer of 2010, I found myself proposing a Paris Review interview to Havel. I wanted to ask him my own series of Prague questions, about his love of Bohumil Hrabal's stories, the cinema of the Czech New Wave, his intuition of farce ... These questions, basically, were one big question: What was it like for a writer, as he did, to end up in the Presidential Palace?
The Interview, however, turned into a melancholy comedy of its own. Read More »