Posts Tagged 'Etel Adnan'
October 18, 2012 | by Nana Asfour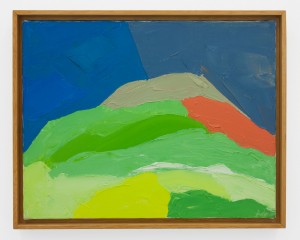 Etel Adnan wasn't there. "It's hard for her to travel these days," Photi told me. Too bad, I thought. She is an iconic Lebanese-American cultural figure and I had hoped to meet her. She was also missing out on the impressive turnout in her honor in New York's Lower East Side.
I had arrived just as the reading had started. The tiny gallery was packed, and I had to squeeze my way through the many bodies. Kaelen Wilson-Goldie, an art critic, was already speaking. I was surprised she was there. She lives in Beirut; I lived there once. So did Etel. Etel and I were both born there, albeit forty-five years apart. And we were both there during the fifteen-year Lebanese Civil War (she, here and there; me, throughout much of its first ten years). Etel wrote the defining novel about that war, in 1978. It's called Sitt Marie Rose and is based on the true story of a woman who was kidnapped and killed by the Christian Phalangists for her support of the Palestinian cause. The Phalangists were one of innumerable militias during the war; they ruled East Beirut, where I, a daughter of two Palestinians, lived. The book was translated into dozens of languages and is regarded as an important contribution to Arab feminism.
Kaelen was holding Etel's new book, Sea and Fog, in her hand. It's a book of prose and poetry that had just been released by Nightboat Books, a small, independent press from Callicoon, New York. It was originally written in English, Etel's first language these days. She penned it in California, where she has been based for decades. (Etel also spends part of the year in Paris.)
At Callicoon Fine Arts, the small, independent gallery where we were standing, Photios Giovanis, the gallery's owner, was showing Etel's paintings. I had never seen Etel's art in person before. Until very recently I didn't even know she was an artist. I only knew her as a writer. As Kaelen spoke, I swiveled left and right, trying to get a glimpse of the works, but there were too many heads in the way. "Whenever I'm hanging out with a group of artists in Lebanon and Etel comes in, everyone is like 'Oh, here's Etel.' She's a very influential figure," Kaelen, said. Kaelen hangs out with Lebanese artists often. She knows the Lebanese art scene very well. She writes about it for publications like Bidoun, Frieze, and Artforum. I don't, in fact, know where Kaelen is from. But she writes great articles about Lebanese art. They almost all have the same theme: Lebanon is an insane, unruly, unstable place—but it has great artists.
July 11, 2012 | by Liz Brown
Michelangelo Antonioni was not happy with the grass. This was the summer of 1966, and London was experiencing an extreme drought. The director had shot the pivotal scene in Blow-Up where David Hemmings photographs an unconsenting Vanessa Redgrave and her lover, and maybe, or maybe not, a murder at Maryon Park. But the grass looked terrible, scraggy and yellow, so Antonioni had the crew spray-paint it green, and then shot the whole sequence again.
Antonioni would've approved of the grass in Kassel, though. It was incredibly green, food-coloring green. The leaves, too. The city, at the northern tip of the province of Hesse, in the middle of Germany, is known for having been nearly obliterated by Allied bombs in World War II and for Documenta, the hundred-day international exhibition of 150 contemporary artists that takes place every five years. I was there with my girlfriend, Liza, for the event's thirteenth incarnation, but at some point, everyone I met would mention the destruction—whether to explain the city's history of manufacturing weapons or the blocky postwar architecture.
The painter and professor Arnold Bode organized the first Documenta in 1955 in order to exhibit publicly the "degenerate" art that had been banned under the Third Reich. The work of prewar and wartime modernism was displayed in the ruins of the Fridericianum Museum, not just as an act of recovery but of testimony, too. This year, the director is Carolyn Christov-Bakargiev, and the exhibition spread beyond the renovated Fridericianum to the main square, the train station, the Brothers Grimm Museum, the sprawling Karslaue Park, and more. There were paintings, installations, films, performances, lectures, seminars, and, as described in the press packet, "periodic activity." I was there for three days, which is enough time to realize how little time that is, especially since this year Documenta extends beyond Kassel to Alexandria, Cairo, and Kabul, where ruins, recovery, and testimony are not distant concepts.