Posts Tagged 'environment'
February 21, 2013 | by Zakia Uddin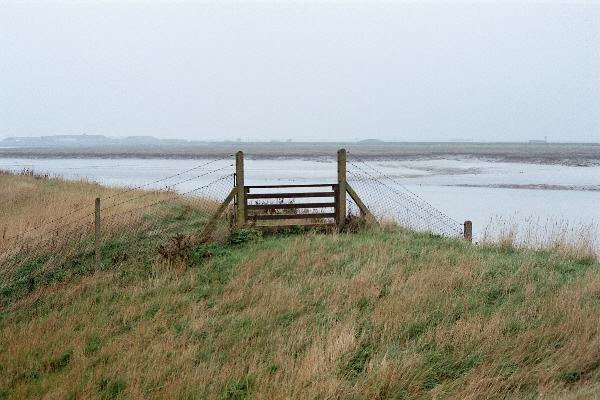 We traveled from East London in a Zipcar, beating the traffic bound for Lakeside, the out-of-town shopping center. The pier car park was sparsely filled with cars. Abandoned in a corner was a statue of the Virgin Mary the size of an umbrella stand. Out of season, the Essex archipelago lures only the most hardened. By October, the weather is spitting and icy, and its landscape is too bleak and monotonous to qualify as ruggedly beautiful. A Wikipedia entry had told us there are nineteen islands off the coast of Essex, most of them owned by the British Ministry of Defence and contracted to private companies testing ammunitions. The individual entries were nearly all stubs, waiting to be filled in. An archipelago struck a curious exotic note in a place associated mostly with commuting, military test sites, and, most recently, "constructed reality" television.
American import Jersey Shore inspired The Only Way is Essex, a show similarly centered on the intricate love lives of pneumatic people living in an area derided for being culturally bankrupt, despite its proximity to one of the most exciting cities in the world. Jersey's Essex County was even named after the UK's own historical Essex, in 1683. Maybe there's no need to make analogies between the UK's Essex and anywhere else because its reputation is internationally bad, and we don't defend it. The county town Chelmsford, where I was born, was voted eighth best place to live in the UK on the prerecession property-porn show Location Location Location. Residents promptly rang in to call it soulless; flashy on one hand and tedious on the other, like a nouveau riche neighbor with dull preoccupations. Read More »
June 14, 2010 | by John Jeremiah Sullivan
Dear Lorin,
It's strange that, right as you confer on me the undeserved (but I hope not wasted) honor of Southern Editorship, this region would reclaim its hold on the American imagination. I refer to the underwater live feed of the oil leak. Are you watching it? Down here we do little else. I made these notes on the experience. They may not be appropriate for the new blog. You said on the phone, if I remember, that you wanted to cover "the intersection of culture and everyday life." But the leak has simply overpowered culture, to the extent that anything happening in that department now assumes a ghoulish cast.
You can feel the other millions of people
watching
, especially late at night, and at times there has even been a Lincoln's Death Train quality to this thing, a sense of shared, and deliberately prolonged, mass shock.
On YouTube, collections have formed of people's favorite moments from the feed, sequences they found beautiful, or ones that appear to support a theory they developed about something BP did and lied about.
When something odd occurs in the frame—when three orange sponge-looking objects float by, for example, or when a striped tube-shaped thing rises up at the left and vanishes into the oil—there's this reflex to call out to the others, and verify that they've seen it.
One clip going around shows an eel that swims up to the plume and hangs out for a few seconds, like, What the . . .
It looks as if they've somehow beamed a Victorian-era smokestack to the bottom of the ocean, and it's billowing brown ash.
Read More »