Posts Tagged 'English literature'
December 12, 2013 | by Sadie Stein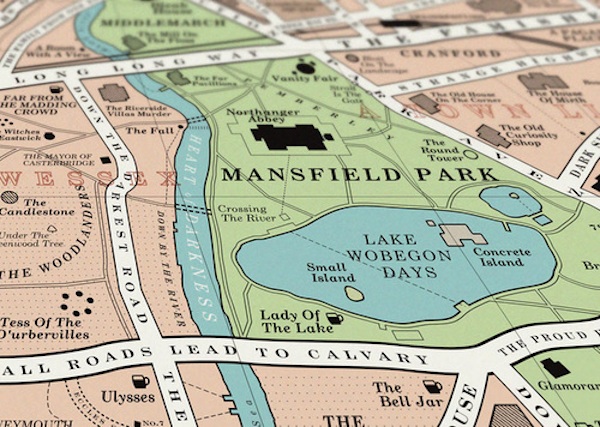 I do realize it must feel like map week around here, but how could we not share this literary street map, loosely based on Victorian London? To quote the Dorothy studio, the map
is made up from the titles of over six hundred books from the history of English Literature (and a few favourites from further afield). The map includes classics such as Mansfield Park, Northanger Abbey, Bleak House, Vanity Fair, and Wuthering Heights as well as twentieth and twenty-first century works such as The Waste Land, To the Lighthouse, Animal Farm, Slaughterhouse 5, The Catcher in the Rye, The Wasp Factory, Norwegian Wood, and The Road.
June 27, 2011 | by Jonathan Gharraie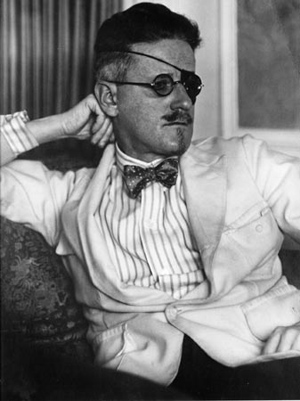 Exuberantly marked across the globe, Bloomsday celebrates the single day on which James Joyce set Ulysses, his epic adaptation of The Odyssey, which also happens to be the day of his first successful rendezvous with his future wife, Nora Barnacle. Each chapter of the novel corresponds to an episode in the daily life of one of the book's three protagonists as they move around Dublin in the summer of 1904: Stephen Dedalus, the frustrated artist as a young man; Leopold Bloom, the Jewish everyman; and Molly Bloom, his profoundly sensual but unfaithful wife.
Immodesty on such a scale is rarely justified, but Joyce was entitled to make his claims on posterity since we don't just remember his ambitions, we read what they achieved. In his influential book The Intellectuals and the Masses, John Carey argued that while "one effect of Ulysses is to show that mass man matters, that he has an inner life as complex as an intellectual's," the novel's density works to "rigorously exclude people like Bloom from its readership." I feel uncomfortable with the implication that writing sympathetically about "mass man" means writing for him, perhaps because I can't quite banish the sense that I might have more than a little of him in me. But to properly defend Ulysses against the charge that it is deeply and treacherously unreadable, you cannot avoid calling yourself to the stand. Martin Amis baldly posed the question, "Who curls up with it?" And writing on this blog last year, Peter Terzian elected to take Ulysses on a vacation, reasoning that the book affords "the kind of pleasure to be found in difficulty." I agree and would also subscribe to his method of consulting guides to Ulysses on a preliminary read, before trying to do without them for a second attempt immediately after. But I wanted to push things further still, to see just how much pleasure could be derived from the second most difficult novel in the language: to engage in some omphalos-gazing extreme reading.