November 25, 2014 | by Sadie Stein
Vernon Lee—the pen name of the English writer Violet Paget—was a travel writer, novelist, musician, and critic with a strong interest in aesthetics. One of the first to bring the concept of Einfühlung, or empathy, into English criticism, she was also an outspoken follower of Walter Pater's aestheticism. "An engaged feminist, she always dressed à la garçonne," someone has written, amazingly, on Wikipedia. 
Lee's work is included in any collection of Victorian ghost stories. Her work is haunting in the true sense and not merely because it deals so frequently with possession. Her stories are graceful, engaging, surprisingly strange. There are often lesbian subtexts; the supernatural was a vehicle for a writer like Lee to indirectly explore such themes.
I first came to Lee through a novella called A Phantom Lover in a collection from the 1960s. As with many of Lee's works, the narrator is male. This one also features a woman given to cross-dressing, specifically period Elizabethan cross-dressing. A nameless painter is invited to an isolated, beautifully preserved country house to do portraits of the young squire and his wife. The latter proves to be a mysterious and somewhat perverse creature, remote and self-absorbed, utterly obsessed with the story of a long-dead ancestor. The love triangle that arises is not what one might expect: it's far creepier. Find it if you can, and then if you're anything like me, you'll want to seek out the 1890s collection Hauntings. Read More »
April 7, 2014 | by Merve Emre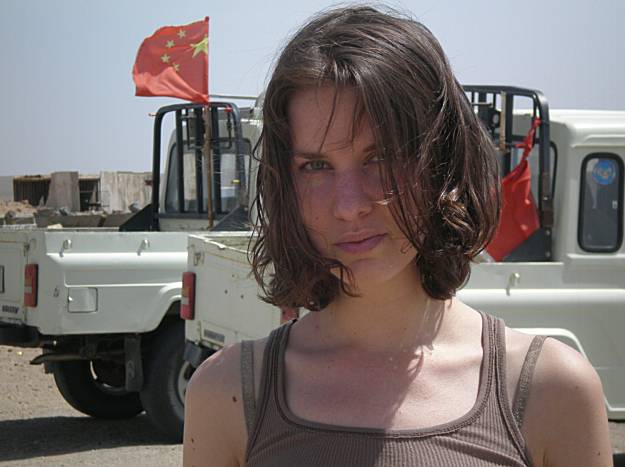 When Leslie Jamison and I met outside the Glass Shop, an airy café in Crown Heights, I noticed her left arm was sporting a wide, wordy tattoo. It was in Latin, and she spared the embarrassment of translating it—"I am human; nothing is alien to me."
Too often, Leslie says, people treat tattoos as an invitation to intimacy. Strangers on the subway ask her to relay the story of her tattoo without a second thought, much as they would, in offering a seat to a pregnant woman, ask for the details of what's growing inside of her. But in Leslie's case the tattoo does point to an intimate story—or rather, to a whole constellation of intimate stories that Leslie offers in her essay collection The Empathy Exams.
"I am human; nothing is alien to me" is the epigraph to the collection. It is a quote that has been casually misattributed to Montaigne, John Donne, Karl Marx, and Maya Angelou, but it actually comes from The Self-Tormentor, a play written by Terence, the ancient Roman slave turned playwright. It is the thread that connects such different yet equally luminous works as "Grand Unified Theory of Female Pain," "Pain Tours," and "The Devil's Bait"—meditations on how to feel pain, both physical and psychic in nature, and how to regard the pain of others in a way that respects their humanity. Having read The Empathy Exams, I can begin to appreciate why Leslie has made the small, if painful, jump from writing about the body to writing on the body.
Leslie and I circled this conversation so many times at the Glass Shop that we decided to revisit it one morning in late October at my apartment in Brooklyn, and later that day, on the Metro-North to Yale University, where we are both finishing Ph.D.s in English literature. Most of the time, the tape recorder was on, but sometimes I switched it off so we could gossip idly, and forgot to switch it back on until Leslie was already halfway into a thought on feminism I wanted to preserve. But if this interview reads like the midpoint of a conversation that's been taking place for some time now, that shouldn't prevent you—the reader—from making sense of it. After all, you are human. This will not be alien to you.
The most ungenerous criticism of the collection that I could imagine is, Oh, she keeps putting herself in these positions to experience pain or woundedness so she can have something to write about. How narcissistic. I can see people thinking as they're reading, She's a real glutton for pain.
I guess that's why it felt right to put "Grand Unified Theory" at the end of the collection. That idea of being drawn to pain is starting to emerge as a pattern in the essays themselves, and the final essay speaks to that directly. What position of pride do I have in relationship to these experiences?
There's a basic and important distinction to draw between positions I inhabit as somebody who has experienced some kind of trauma and somebody who's seeking out pain. Going to the Morgellons conference is a choice in a way that getting hit in the street isn't. But the collection chooses to bring all of those experiences together in a certain way—what kind of appetite is being spoken to there? In certain ways, as a writer, you do profit off your own experiences of pain, and there's a way of seeing that profit that's wholly inspirational—in terms of turning pain into beauty—and a way of seeing it that's wholly cynical—in terms of being a "wound dweller" in a corrosive or self-pitying way. The honest answer—to me—dwells somewhere between those views. Read More »