Posts Tagged 'Emmy the Great'
December 22, 2011 | by Rachael Maddux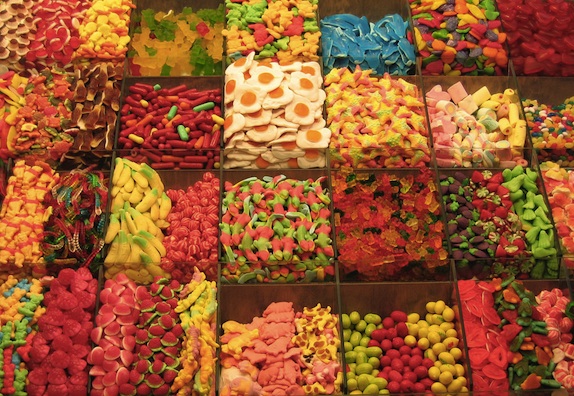 My first shift at the candy store was on the first day of October, my last just before New Year's, but when I talk about it now, what I say is, "Last Christmas, when I worked at the candy store."
In the world of candy stores, and this candy store in particular, Christmas is a perpetual condition that just happens to spike at the end of the year. A red-and-green decorating scheme carried throughout the shop—I could not escape it, even when I retreated, as I sometimes did, to the store's one bathroom, also tinged with red and green, just to shut out the world for a minute or two. On the sales floor, the shelves were heavy with saltwater taffy and boxes of truffles and delightfully analog toys—balsa gliders, pick-up sticks, chunky wooden puzzles. The general effect was that of being buried inside the holiday stocking of a child who'd been very, very good that year—along with the child himself, and a hoard of his less well-mannered friends and their overstressed, oblivious parents.
I took the gig shortly after finding myself laid off from the job I'd had for the last four years as an editor at a music magazine. I felt adrift and thought tending to a candy store, such a bastion of simple pleasures, might anchor me more firmly to the world, and also I thought that money might be a thing I'd might want to have again. But in my vague desperation I had forgotten about humans' terrific knack for rendering even the most ostensibly pleasant pursuits completely soul crushing, and how that tendency increases as the winter days darken.
August 16, 2011 | by Peter Terzian
Emmy the Great is the stage name of Emma-Lee Moss. (The moniker was a university joke that stuck.) The twenty-eight-year-old Anglo-Chinese musician first began to attract attention in the mid-2000s, when a set of her acoustic demos, recorded for a school project, began floating around the Internet, and she subsequently became associated with a group of young London-based folk revivalists that included Noah and the Whale, Johnny Flynn, and Mumford and Sons. Her debut album, First Love (2009), was built around acoustic guitar and her bright, quavering voice. But her early songs also reshaped classic indie pop and girl-group tropes into funny, wordy tales of romantic disappointment: a boyfriend who whiles away his life watching back-to-back episodes of 24; a girl who has a one-night affair with a guy who plays her the song "Hallelujah" ("the original Leonard Cohen version," the narrator makes clear). Moss's new album, Virtue, is both more mature and more heartbroken. The songs were written around her real-life breakup with her former fiancé, who left her on the eve of their wedding to join a religious order. We met one July morning on London's Oxford Street ("About to meet Serious Journalist from Abroad … At Top Shop. #igottopickthevenue," she tweeted) and went to a Soho café.
Musicians often say they don't want to explain their lyrics or talk about the autobiographical elements in their songs because they want the listener to be free to project his or her own stories onto them. But with this album you've talked openly to the press about the breakup of your engagement and how it led to these songs.