Posts Tagged 'Elliott Colla'
August 20, 2014 | by Jonathan Guyer
Cairo: the metal detector beeps. The security man wears a crisp white uniform. He nods and leans back in his chair. The lobby's red oriental carpet, so worn it's barely red, leads upstairs to the hotel tavern. Enter the glass doors, where a cat in a smart bow tie and vest reaches for a lonely bottle behind the bar. He takes his time; he's been polishing glasses at the Windsor Hotel for thirty-eight years. Out the window, a motorcycle speeds through the dark alley. In 1893, this joint was ritzy—home to the royal baths, steps from the original Cairo Opera House. Tonight it's dingy enough that Philip Marlowe might come here to tip a few back after clobbering some hoods. A fine joint in which to pore over pulp from the secondhand book market down the street.
It's tempting to ponder the relevance of crime novels in contemporary Egypt. The 2011 revolution began on National Police Day as a revolt against the fuzz. When President Hosni Mubarak breezed off eighteen days later, the police dusted, too, leaving behind a Wild West. Gun sales skyrocketed, matched by holdups and carjackings. In the following two years, thugs ran Cairo's streets. Ever since General Abdel-Fattah Al-Sisi ousted former President Mohammed Morsi last summer, the coppers have been back in full force. White uniformed police operate checkpoints littered throughout the capital like discarded Coke cans. Cabbies are so scared that they've started wearing seat belts. And now, as authorities attempt to restore law and order, the crime genre is making a comeback. Read More »
September 30, 2011 | by The Paris Review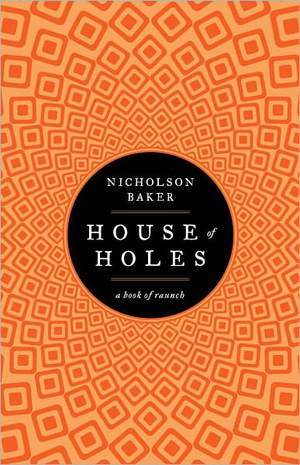 Elaine Blair says let your children read Nicholson Baker: "House of Holes will introduce impressionable readers to many interesting sexual possibilities without a whisper of stereotype or slur. You can be sure that no matter what scene your children are masturbating to, they are not objectifying women. But you will have to make sure that they accidentally stumble on it soon, before they find the Internet, if they are to have a fighting chance at being wholesome and delightful fuckers instead of hopelessly depraved ones like yourself." —Lorin Stein
My friend Pete turned me on to Ephemeral New York, which, along with Vanishing New York, has immediately entered my personal must-read feed. And if you really want to feel melancholy about our city's lost treasures, take a look at this. (And thanks to Vanishing New York for turning me on to Karen Lillis's Bagging the Beats at Midnight, a memoir by a long-time employee of beloved—and endangered—St. Mark's Bookshop.) —Sadie Stein
Is print dead? Not at all. The New York Art Book Fair, hosted by Printed Matter this weekend at P.S. 1, is probably the best browsing experience you'll have all year. Photobooks, artist's books, antiquated books, ephemera, zines: it has everything from the small to the massive, the odd to the vintage, the practical to the whimsical. —Deirdre Foley-Mendelssohn
I've been poking around in Asymptote, a new and impressively eclectic online magazine, with fiction and nonfiction, poetry and criticism, all in translation. I've especially enjoyed the (very) short story by Robert Walser, translated by Susan Bernofsky, Adonis's "Ambiguity," translated by Elliott Colla, and an essay about riddles by the Russian formalist Viktor Shklovsky, translated by Shushan Avagyan. There is, in other words, something for everyone. —Robyn Creswell
I picked up a copy of Mr. Fox by Helen Oyeyemi in the office and am thoroughly enjoying doses of Wes Anderson-esque whimsy. It's a fairy tale disguised as a novel about a writer (named Mr. Fox), his muse (Mary Foxe), and his characters. Like all good fairy tales, the story is told over and over again in various romantic settings, in this case involving plenty of typewriters, brownstones, and flower shops. —Artie Niederhoffer
An old interview between Borges and Enrique Krauze, devoted mainly to Spinoza, is newly translated in the current issue of The Reading Room: "Descartes let himself be seduced by that abominable little Protestant sect, the heresy that is the Church of Rome; but if one accepts his premises, one arrives either at solipsism or Spinozism. Which means that Spinoza was a more coherent thinker and certainly much braver than Descartes. For me—simply because I'm a coward myself—bravery is an essential virtue." –L. S.
Much has already been written on the immersive, off-broadway theatre experience, Sleep No More. Recently extended through November 5, this eerie production has been haunting me all week. Though the storyline (based on Macbeth) left me a bit puzzled and frustrated, the sets, music, and lighting design alone are worth the price of admission. If you go, stick as close to the actors as you can (even when that means literally running up and down stairs) and you might get as lucky as I did to get locked in a room alone with one of the players. What a memorable and bewitching treat to have a monologue recited to you and you alone—sans mask. —Charlotte Strick