Posts Tagged 'Edgar Rice Burroughs'
September 17, 2012 | by Dave Tompkins
The half-mouse—the good half, the half equipped with a smell memory validated by neuroscience, the half mortally known as the half that never saw it coming—shot across the kitchen floor, headed due west with a decent but final glimpse of the front yard. The back half landed somewhere near the sink.
My brother had split the mouse in two with a nine-iron. According to witnesses at the scene, the creature's separation was cartoonishly neat. I recall thinking this was a flawed method of pest control for someone with no short game to speak of. The linoleum gopher hump that rose from my grandparents' kitchen floor—a distortion from water damage—did place the moment in a Goony Golf warp. But from my understanding, the murder was more reflex than act of cruelty. It wasn't like my brother teed up and put the mouse through a window. (I imagine a similar instinct overtaking him the time he allegedly potato-slammed a palmetto bug on the kitchen counter, knocking it out of its exoskeleton, quivering.) He just grabbed the first thing within reach—a legendary chemistry teacher's nine-iron—and let the mouse have it. Having once hurled a toaster oven at a cockroach, I can relate.
April 16, 2012 | by Thomas Mallon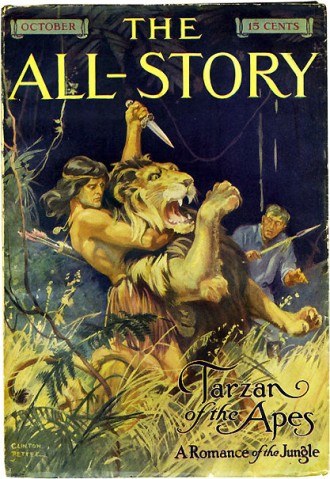 The New York Times made its first mention of Edgar Rice Burroughs on June 14, 1914, when the paper's Book Review included Tarzan of the Apes among "One Hundred Books for Summer Reading." Having asked publishers to supply the hundred titles, the Review editors did "not pretend to say what consideration has inspired each . . . particular selection"—a note of caution that veers toward alarm in the editors' capsule assessment of Burroughs's recent creation: "The author has evidently tried to see how far he could go without exceeding the limits of possibility." The plot description that followed made it clear that, "possibility" aside, plausibility had certainly been breached:
Lord Greystoke and his wife are marooned on the African jungle coast, build a cabin, and become accustomed to the wild life there. A son is born and the mother dies. A herd of giant apes invade the cabin, kill Lord Greystoke, take away the child, and rear it as their own. When the child has become a man he possesses the habits, the language, and the great strength of the apes. One day a white woman is put ashore from a ship, and the ape man falls in love with her, and rescues her from many perils. He also plays the part of instructor to a scientific expedition. The scene then shifts to Wisconsin, where the heroine is rescued from more perils. Meanwhile the ape man has been educated in the culture of his kind, and he finally proves that he has a soul as well as superhuman strength.
Burroughs was surely unfazed by this. Read More »