January 2, 2013 | by Jacob Leland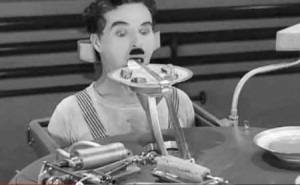 The opening scenes of Charlie Chaplin's Modern Times demonstrate the indignities mechanized factory production perpetrates upon the bodies of its workers. The first shot, of sheep herded into a pen, dissolves into one of men leaving the subway. They're bound, the viewer assumes, for the kind of job in which the next cut finds Chaplin's Little Tramp: working on an assembly line, his motions so repetitive that they become reflexive. He can't stop twisting his wrists, as if to tighten bolts, even when he leaves the station where he tightens bolts all day. His body is so bound to the line and to the factory that the same boss who controls the conveyor belt's speed also controls the movements of the Tramp's body. Finally, the factory extends its control to the Tramp's last autonomous function: eating his lunch.
A salesman so committed to mechanization that he lets a machine speak for him has brought to the factory boss's office a prototype of "the Billows Feeding Machine, a practical device which automatically feeds your men while at work." He asks the boss to pick one of his workers for a demonstration, and of course Chaplin's Tramp is volunteered. Strapped into the machine, hands incapacitated, the helpless Tramp watches the machine rotate plates before him: soup, air-cooled between spoonfuls; corn, spinning on its cob; cubes of meat, pushed by a mechanical arm from the plate into his mouth; and finally cake for dessert. The machine promises to "eliminate the lunch hour."
Even before the machine goes predictably haywire—speeding up, spilling soup on the Tramp's shirt and cake in his face (always pausing, hilariously, to wipe his mouth)—it's clear to the viewer that some kind of line has been crossed. Read More »
December 26, 2011 | by Caleb Crain
We're out this week, but we're re-posting some of our favorite pieces from 2011 while we're away. We hope you enjoy—and have a happy New Year!
My husband and I watched Ferris Bueller's Day Off (1986) the other night. He'd never seen it before, to the consternation of his Facebook friends, and I last saw it a decade ago, when I remember having been vaguely entertained. Not this time, though. "God, he's kind of awful, isn't he?" Peter commented, about ten minutes in. I agreed but was fascinated. Before my eyes, the rentier class was daydreaming a special dream, a dream of getting away from the drudges and the scolds ...
I was not fascinated by the plot, which is thin. A high-school senior named Ferris Bueller, played by Matthew Broderick, feigns illness in order to play hooky and persuades a hypochondriacal friend and a bland girlfriend to follow him on a tour of Chicago, visiting a fancy restaurant, a baseball game, an art museum, and a German-American heritage parade. The movie depends heavily on Broderick's charm as an actor, on his mix of too careful enunciation, direct address to the camera, and pale pink pubescence in the shower. In the opening scene, director John Hughes takes a rather large risk: Ferris lies to his parents with large calf eyes, giggling and lapsing into baby talk. What kind of movie hero consciously presents himself as infantile and duplicitous? What kind of movie hero begins by seducing his parents?