Posts Tagged 'eccentrics'
November 29, 2012 | by Joe Kloc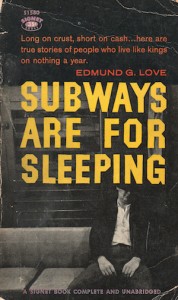 Every now and then I come across someone on the subway who defies easy categorization. I remember, for instance, a man who boarded the 3 train in Brooklyn a few years ago wearing military fatigues and a bandolier packed with little glass bottles of liquids. "Who is man enough to buy my fragrances?" he shouted. (When one rider replied that he wasn't sure, the man responded, "Are you man enough to kill a hooker in Moscow with a crowbar?") More recently, there was a man on the uptown 6 wearing a pair of oversized New Year's glasses—the ones where the 0's serve as eyeholes—who played atonal jazz on his saxophone and asked for no monetary compensation in return. I could keep going, but no doubt anyone who has lived in a city for any length of time has their own mental list of these self-styled subterranean eccentrics, grouped together not so much by any particular characteristic other than the fact that they seem only to exist underground.
September 17, 2012 | by Lesley M.M. Blume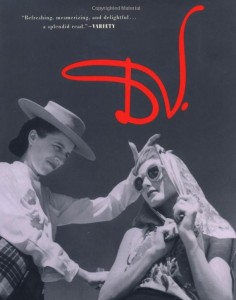 Last year, I was given the birthday gift of a lifetime: I got to spend the occasion with Diana Vreeland. A friend, who has long been close with the Vreeland family, took me on a weeklong pilgrimage to the Marrakech home of one of Vreeland's sons. Our hosts, aware of my longstanding obsession with Diana, settled me into what is alternately known as the "D.V. Room" and the "T.V. Room," for it boasted a rather ancient television set that looked like it might electrocute anyone who dared near it. Above it hung the splendid William Acton portrait of Vreeland that graced the first edition of her memoir, D.V. (edited, incidentally, with gusto by Paris Review cofounder George Plimpton). The painting lovingly depicted her trademark red talons, lacquer-black hair, and the leather thong sandals she claimed to have had recreated from those donned by a slave perfectly preserved (in coitus, no less) by the ashes of Vesuvius. For Vreeland, inspiration came from the most unlikely of sources.
The local souk held countless wonders for the other houseguests, but the sprawling, glamorously disheveled Vreeland house engrossed me far more. The D.V. imprint was everywhere. First of all, nothing quite made sense—at least to the orderly, pedestrian mind. You had to resign yourself to wandering the labyrinth and surrendering to the various unexpected delights along the way, such as a turret room festooned entirely with leopard print, or a dark hidden library, filled with hundreds of Vreeland's books, many (if not most) of which had been inscribed to her by their authors. In yet another room stood one of her famed Louis Vuitton traveling trunks, her initials D.D.V. emblazoned in imperial red ink on one side. One evening, after too many bottles of Moroccan wine, our party took a vote and elected to open it up. The candles in the room blew out as we lifted the lid. Vreeland was clearly present—and making it known that she could only tolerate so much reverential curiosity.