April 26, 2012 | by Sadie Stein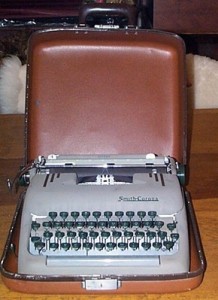 Eight thousand dollars might seem high for a Smith Corona—even a vintage one—but when you consider it belonged to Truman Capote, and during the period in which he wrote In Cold Blood, the surprising thing is that the eBay auction only drew two bidders.
Quoth the seller, an acquaintance of the author's:
All of these personal things were given to me by Mr. Capote. I picked him up from the airport in Kansas City, Missouri, several times and drove him to Holcomb, Kansas. Mr. Capote was getting information on a crime that took place there for a book he was writing.
And compared to his house, this is downright affordable! Of course, as Capote noted in his 1957 Paris Review interview,
No, I don't use a typewriter. Not in the beginning. I write my first version in longhand (pencil). Then I do a complete revision, also in longhand.
November 30, 2011 | by Josh Lieberman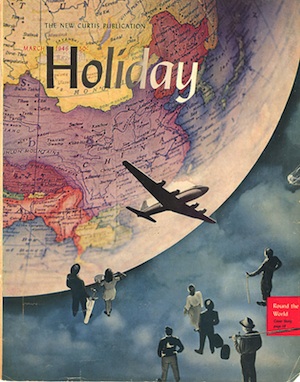 Here's how it begins. You are in a bookstore on the main drag of a small town. You walk along the mystery and western paperback sections, and then you see a wicker basket overflowing with Life magazines. You idly flip through the stack because you know Life was once an important cultural force but have never seen the magazine in person. The copies of Life are musty and torn, and in the middle of the heap you come across something called Holiday. It has the same heft as Life, more than a foot tall and surprisingly heavy, but in place of a black-and-white photograph on the cover there is a colorful swirling yellow illustration of the sun and the words "California Without Cliches." The magazine is from 1965 and you think it would look good on your coffee table. Also the ads are campy and fun ("San Diego Is a See-Do Vacationland!"), so you buy the magazine—why not, it's only a few bucks—and take it home. You turn on the TV and half watch Seinfeld as you flip through for the ads. Then you come upon "Notes from a Native Daughter," the Joan Didion essay you read in college but don't really remember. You read how California is only five hours from New York by jet but really that is just a delusion: "California is somewhere else." Now you are somewhere else. Seinfeld ends and another Seinfeld begins and you read the entire essay and then discover a piece by Ray Bradbury, your old pal from high school English. You read his rhapsodic paean to Disneyland ("No beatniks here. No Cool people with Cool faces pretending not to care, thus swindling themselves out of life or any chance for life"), and you think that's pretty good, too. You head back to the bookstore to see if they have any more issues of Holiday.
***
Whenever I mention to someone that I've started collecting old issues of Holiday, the excellent yet forgotten monthly travel magazine that was born after World War II and lived until the late seventies, the response generally falls between bafflement and irritation. "Why would you do that?" people ask, as though I've just admitted to hoarding old shoehorns or something truly sinister.