July 7, 2010 | by Christopher Cox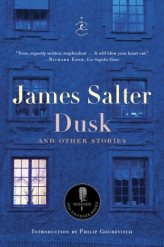 Add James Salter's
Dusk
to the list of
genius reissues
coming out this year. Modern Library has put out a handsome new edition of the story collection, which won the PEN/Faulkner Award when it first appeared in 1988. (If songs from 1988 can be called
oldies
, then a book from the same year definitely qualifies as a classic reissue.)
Dusk
had been out of print for many years, so the new edition is a godsend for those of us who don't have the original issues of
Esquire
,
Grand Street
, and, ahem,
The Paris Review
lying around. Four of the stories in
Dusk
first appeared in our pages, and to celebrate the return of a great book, we've put the full text of "Am Strande von Tanger," the lead-off story in the collection, online
here
. That story is forty-two years old, and it's still not showing any signs of age.