June 12, 2012 | by Belinda McKeon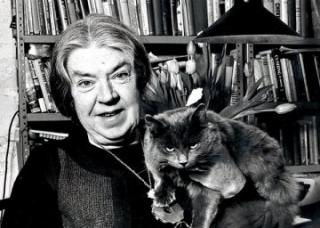 Joyce Carol Oates called her one of the finest short-story writers of the twentieth century, and there's much to love about the work of Mary Lavin, whose centenary falls this week; there's the brilliance with which her fiction gets at the stuff of human interaction, in all its awkwardness, in all the ways in which, muddled and mortified, this interaction will have to do us, because it's all we've got. There's the immense power with which she depicts the inner lives of women, particularly mothers and widows, women who have no reason to be anything other than honest with themselves about the realities of their situation. Lavin evokes those situations with sympathy and with candor and with, in many cases, a frank and delicious comedy.
Lavin was an Irish writer of the mid-twentieth century, so it's no surprise that Catholic Ireland is present in her work, but there's nothing predictable about her portraits of the people who lived in its grip, because what her fiction always looks to are the marvels and the strangeness of individual lives, individual territories carved out regardless of the directives handed down from on high. These lives, mostly rural, could be described as small; they could be described as provincial. Mary Lavin would never stoop to either of those descriptions. They were lives rich and secretive and complicated and contradictory, and for her there was no form suited to them more perfectly than that of the short story, the form she described as being like "an arrow in flight, or a flash of forked lightning: you know the way a flash of lightning appears to be there all in the sky at once? Beginning, middle and end, all there at once."
December 21, 2011 | by Rachel Nolan
Paul Murray, author of Skippy Dies and An Evening of Long Goodbyes, wrote "That's My Bike!," a short story published in the Winter issue of The Paris Review. The story opens with a group of friends gathered at a none-too-salubrious pub in Dublin's Northside on Christmas Eve. Murray spoke to me from his office at the Oscar Wilde Center for writing at Trinity College in Dublin, where he is a writing fellow.

The last time I was in Dublin for Christmas was in 2007, right before the crash. The Christmas displays along Grafton Street and in all the shopping areas were absolutely ghastly. Everything had blinking lights and moving parts. Is this still the case?
There's this shop called Brown Thomas, which is the oldest department store in Dublin and it's very swanky and expensive. Historically, when it used to be called Switzer's, they had these famous windows with Santa Claus and mice making ballet shoes and so forth, and it was all mechanized, and the kids would go into Dublin and look at the windows. That was something your parents would bring you to do. Then, when the boom came, they stopped having child-oriented windows and started having these really nasty Helmut Lang soft-cyber-porn-type windows with a bunch of emaciated blue mannequins wearing just a giant watch and staring bleakly out of the windows. Everything was about excess and consumption. The idea that children had any part of Christmas was shunted to one side because the store just wanted to get the adults in there to spend money.
And would the adults make pilgrimages to gaze at the watches?
They wouldn't even stop at the windows, they would just pile into the store. I remember being in there and hearing a couple next to me saying, "I just don't know what to get her." And the woman said, "Pearls, you can't really go wrong with pearls." And I remember thinking, "Who are you people?" It was beyond parody. And these were people who worked in normal sorts of jobs. Read More »