November 8, 2012 | by Sadie Stein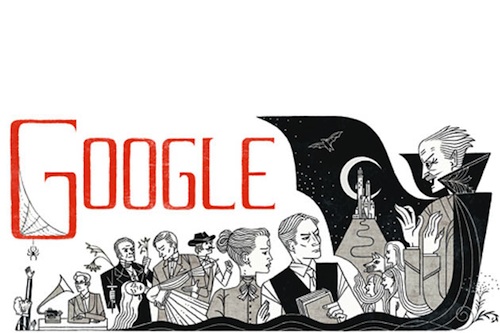 Web surfers will have noticed Google's celebration of the Dracula scribe's big 1-6-5 in today's doodle. But the celebrations don't end there: Galleycat has rounded up free Stoker e-books, while those across the pond enjoy a Bram Stoker Wedding. Enjoy an excerpt from the 1922 silent film version of Nosferatu:
[tweetbutton]
[facebook_ilike]
October 29, 2010 | by Kate Waldman
When I was in second grade, I wanted to be a werewolf. I'd been raised to think that most of my goals were within reach, if I only applied myself. Also, a good friend had just upped and moved to Martha's Vineyard, so I had time on my hands. I practiced my snarl for half an hour after school each day, baring my teeth in the bedroom mirror. At recess, I crawled under the shed, convinced I was allergic to sunlight (I'd gotten my horror myths confused). I'm not sure where my werewolf fascination came from—maybe I felt social cliques tightening around me, and monsters suggested the blurring of boundaries: between humans and animals, for instance, or earth and the underworld. More likely, though, it was about power. I longed for the thrill of being feared, of commanding fear. Not all the time, of course. Once I attained shape-shifter status, I knew I would spend the majority of my day undercover. The secret would be part of the fun: Who would suspect that, beneath my quiet facade, a supernatural fury waited to erupt? Lycanthropy was an insecure girl's backup plan, for use as needed.
As I got older, the fantasies took a new form. I started to imagine dating werewolves. They were, unfailingly, cute guys who turned into dangerous beasts when I needed protection. One, who showed up during my Ben Folds Five phase, played rock piano and hated the suburbs. Another, an ice-hockey player, memorialized a very short-lived interest in the Washington Capitals. They melted in and out of my high-school existence at odd intervals. Feeling lonely or undesirable, I would retreat to my inner woods, where they waited: strong, loving, but also ineffably menacing. I was deliciously aware that any one of these soul mates could hurt me if he wanted to. Apparently, it was intoxicating to be scary, but being scared was even better.