July 16, 2014 | by Aram Saroyan
In early 1989, I telephoned Daniel Fuchs (1909–93), then in his eightieth year, in Los Angeles to ask about the possibility of interviewing him for The Paris Review. The novelist and screenwriter—heralded for his Williamsburg Trilogy of the 1930s (Summer in Williamsburg, Homage to Blenholt, and Low Company) and Love Me or Leave Me, for which he won an Academy Award—was cordial and open, but stipulated that he preferred to have the questions sent to him; he would mail back his answers. I sent the questions, twenty-seven of them, to Fuchs that February, and at first there appeared to be clear sailing—the writer said he would soon have something.
At the same time, Fuchs expressed a concern about the handling of the copyright when the interview was printed, and over the next several weeks it became increasingly difficult to allay or understand his fears. Although I'd assured him the rights would revert immediately to him upon publication, he remained concerned, asking for a signed warranty from George Plimpton. When this wasn't quickly sent—owing to office delays rather than any disinclination—the writer grew vehement, and then abusive. Reluctantly I let go of the idea of seeing through an interview with Fuchs, whose work remains too much of a secret to this day.
A year or so after Fuch's death in 1995, having been informed that the writer's papers were in Special Collections at the Mugar Memorial Library at Boston University, I phoned Dr. Howard Gotlieb, the Special Collections librarian, to ask if, by any chance, there was an interview circa 1989 among the papers. Indeed there was. Fuchs had constructed an interview that, while based on my questions, departs from them in unexpected and telling ways. It amounts to a late work by the distinguished, if unexpectedly irascible, "magician," as John Updike once pronounced him.
You have been identified by Irving Howe, Alfred Kazin, and others as one of three Jewish novelists of the 1930s whose work has survived a half century now, the other two being Henry Roth and Nathanael West. Would you comment on the literary climate of the thirties?
Survived, rediscovered—a peculiar occurrence. A man sits in a room writing novels. Nothing happens. The books don't sell—four hundred apiece, the last one a few more. There are scattered reviews. Then thirty years later, suddenly, the books are brought out, again and again, acclaimed. A small-sized mystery. Of course, I'm talking only of my own books. Call It Sleep and Nathanael West's work attracted attention from the start and were well known all along.
Did you read Call It Sleep when it came out?
With pleasure and pangs of jealousy.

Nathaniel West went to Hollywood and wrote B movies and worked on his last novel, The Day of the Locust, which in its final sentence seems to indicate that the protagonist has succumbed to the furies around him in Hollywood and gone mad. Henry Roth moved to rural Maine and hasn't, as of now, published another novel. You gave up a literary career for several decades to write movies. Is there a common thread in all this?
No, I don't think so. West kept working on his own material up to the end, while he was doing the pictures at Republic. Roth had his own reasons. I liked it in Hollywood and stayed on. I found the life most agreeable. Mordecai Richler went out of his way, in a book review, to say I bragged about the money I made in Hollywood. Actually, I never made a great deal of money in the movies. Sixty thousand dollars a year was about the best I could do, if Richler doesn't mind my saying so. In fact, I went nearly broke, had to sell my house, and then an amazing thing happened, another one of those mysteries. A benefactor, a character out of a Molnár play—I can't say his name, he once asked me never to bother him or intrude—stepped forward. He's been watching out for us over the past number of years and we're quite comfortable. I guess I mention all this to get a rise out of Richler. Hollywood strikes a nerve in some people. Read More »
February 10, 2012 | by The Paris Review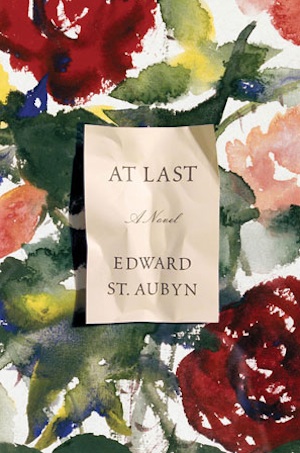 "I couldn't make her amusing," says David Melrose after asking his girlfriend to eat off the floor like a dog, "but I did at least keep her quiet. I was dreading having another talk about the agonies of being rich. I know so little about them, and she knows so little about anything else." From the first pages of Edward St. Aubyn's Never Mind, it's clear that his cycle of Patrick Melrose novels will be delightfully packed with gross privilege, dysfunction, and savage humor. The first four novels have just been released as a single paperback alongside the fifth and final book, At Last. I look forward to devouring them all. —Deirdre Foley-Mendelssohn
If you're a Thomas Mann fan—or, anyway, someone who's fascinated by his work (fan doesn't seem the right word)—it's worth seeking out Gilbert Adair's The Real Tadzio, the story of the ten-year-old Polish nobleman who inspired Mann's Death in Venice. The object of the thirty-six-year-old author's fixation was unaware of the connection for years. The book deals with his reaction to the odd sort of celebrity he acquired and, of course, with the summer in Venice that inspired the novella. It's a slim volume, but it packs a punch and is ultimately as much about the end of an era in Europe as it is about the creative process or Mann's disquieting obsession (about which his wife was oddly blasé). —Sadie Stein
Ambivalence may be the moral failing of the twenty-first century. Or perhaps not. It depends. I'm as guilty of it as anyone (maybe more), and I don't feel good about my role in what Kenneth Weisbrode describes as a collective pathology. But in reading his engaging minihistory, I do feel encouraged to just make a decision already. —Nicole Rudick
The Library of Congress has made available, via Flickr, all sixteen hundred jazz photos by William P. Gottlieb. From 1938 to 1948, Gottlieb documented the New York and D.C. jazz scenes with the obsession of an avid collector. Duke Ellington, Ella Fitzgerald, Billie Holiday, Thelonious Monk, Charlie Parker, Dizzy Gillespie, Django Reinhardt, and even Doris Day—all are represented. —Josh Anderson
Weighing in at ten pounds, A Living Man Declared Dead and Other Chapters I-XVIII, the nine-hundred-page volume of photographer Taryn Simon's latest body of work, is not the easiest book to curl up with. Compiled over four years, Simon's project records the bloodlines of eighteen different families across the world, charting the forgotten details of their family histories. It is an unforgettable exploration of survival, inheritance, and the forces of fate. —Elizabeth Nelson
"Anyone who takes pleasure in modesty will get on well here," writes Robert Walser of a bar in his Berlin Stories. The same could be said of his work, as the excerpts now running at The New York Review blog prove. —D.F.M.
I really liked this piece on Jewish designers' appropriation of WASP style—and how often is a title this perfectly suited to its subject? —S.S.