Posts Tagged 'Dodie Bellamy'
July 29, 2014 | by Christopher Higgs
Dodie Bellamy writes genre-bending works that focus on sexuality, politics, and narrative experimentation, challenging the distinctions between fiction, essay, and poetry. Her methods include radical feminist revisions of canonical works, as in Cunt-Ups (2002) and its follow-up Cunt Norton (2013), which appropriate the "cut-up" technique made famous by William Burroughs; and The Letters of Mina Harker (2004), an epistolary collaboration with the late Sam D'Allesandro, which reimagines Bram Stoker's Dracula in an AIDS-plagued San Francisco. In her 2004 book Pink Steam, Bellamy explains, "I'm working toward a writing that subverts sexual bragging, a writing that champions the vulnerable, the fractured, the disenfranchised, the sexually fucked-up."
As an active member of San Francisco's avant-garde literary scene for the past thirty years, Bellamy is often associated with the New Narrative movement. Before moving to San Francisco in the late seventies, she grew up in the Calumet region of Indiana, studied at Indiana University, and joined a New Age cult. That experience informs her newest book, The TV Sutras, which Norman Fisher has described as "part porno, part memoir (maybe), part spiritual teaching (probably not), [and] part fiction." Bellamy says she spent five months "receiving transmissions" from her television set, writing brief commentaries on each, which serve as the material for Part One. For example, from #5—"Do you want me to come back to your place? Man and woman in bar. Commentary: Focus on getting back to the basics/beginning anew. Establish a home base you can return to."
Part Two, "Cultured," switches into a more familiar form of narrative, but nevertheless refuses to explain itself. At times it seems as though it contextualizes and complicates the sutras in Part One, while at other times the connection seems hidden. In a recent correspondence with Bellamy, we discussed TV Sutras and her history with the New Narrative movement.
You refer to The TV Sutras as a conceptual piece. I'm curious about the ways you see it participating in the current trend of conceptual poetics, or conceptualism in general.
While my writing shares enough concerns with conceptual poetics to be published by Les Figues—poems from Cunt Ups are included in their I'll Drown My Book anthology, followed by the book length Cunt Norton—The TV Sutras, like the current trend of conceptual poetry, connects with older roots in twentieth-century Conceptual art practices, procedural practices that have been employed since before the surrealists. Procedural strategies have been in vogue ever since I came to poetry in San Francisco in the late seventies—erasure poems, cut-ups, et cetera. I remember very early on going to a reading by Carla Harryman during which she said she "generated" a text, and I was shocked at her use of the word "generated" instead of "wrote." For me, this was one of those "Dorothy's no longer in Kansas" moments. Kathy Acker's use of appropriation has been a touchstone, as well as her conflation of reading and writing. I "generated" the first handful of TV sutras for the Occult issue of 2nd Avenue Poetry, which focused on the intersections between poetry and divinatory practices, particularly rituals that introduce chance. In receiving my sutras through my television, I was reaching back to an ancient tradition of inspired texts—texts that arrive, bidden or unbidden, from a divine/alien elsewhere. Read More »
October 22, 2012 | by Christopher Higgs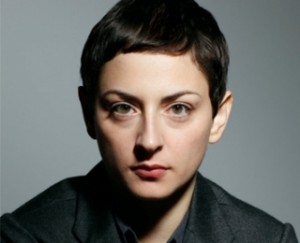 Kate Zambreno's first book, O Fallen Angel, won Chiasmus Press's "Undoing the Novel" First Book Contest, and her second book, Green Girl, was a finalist for the Starcherone Innovative Fiction Prize. So it should come as no surprise that her provocative new work, Heroines, published by Semiotext(e)'s Active Agents imprint next month, challenges easy categorization, this time by poetically swerving in and out of memoir, diary, fiction, literary history, criticism, and theory. With equal parts unabashed pathos and exceptional intelligence, Heroines foregrounds female subjectivity to produce an impressive and original work that examines the suppression of various female modernists in relation to Zambreno's own complicated position as a writer and a wife. It concludes by bringing the problems of the modernists into conversation with the contemporary by offering a timely consideration of the role of the Internet and blogs in creating a community for women writers.
What was it about the modernist wives that first interested you?
I think I came to the wives through an initial discovery of more neglected modernist women writers—Olive Moore, Anna Kavan, Jane Bowles, maybe I'd add Jean Rhys to that list. I was living in London working in a bookshop and not doing much in terms of trying to write a novel, so I pitched to Chad Post at Dalkey that I write an essay on Kavan. And because I had nothing else to do, I sat in the British Library and read everything by her. And started reading all these other experimental women writers, like Elizabeth Smart—not the Mormon abductee, but the one obsessed with the poet George Barker, an obsession she documents in the amazing By Grand Central Station I Sat Down and Wept. Not a modernist, I know, but I sat at the British Library and read the communal notebook she kept with Barker and thought about Vivien(ne)'s hand on "The Waste Land" manuscript. I began to be really interested in ideas of literary collaboration.