Posts Tagged 'Djuna Barnes'
April 2, 2012 | by Jenny Hendrix
Djuna Barnes, best known as a cult feminist-ish lesbian experimental novelist, once described herself—with unaccustomed hauteur—as "the unknown legend of American literature." In her early career, she claimed to have worked for every English language publication in New York City, excepting only the Times, and by the time she left for Paris in 1921, had published some one hundred articles. As it turns out, Barnes is one of the great carnival barkers of the nonfiction world—a kind of Tom Wolfe of her day.
A new exhibition of Barnes's work at the Brooklyn Museum, running under the header "Newspaper Fictions," concerns Barnes's New York years, beginning with the day when, fresh from the slopes of Storm King Mountain—where she'd shared a log cabin with her mother, grandmother, polygamist father, his mistress, and her odd-monikered brothers Saxon, Zendon, Shangar, and Thurn—she allegedly marched into the offices of the Brooklyn Eagle, dressed in a milkmaid's calico, and declared, "I can draw and write and you'd be foolish not to hire me."
James Joyce, perhaps the greatest influence on Barnes's fiction, liked to advise, "Never write about an unusual subject, make the common unusual." Barnes, for one, paid this dictum no mind: like Nathanael West and Flannery O'Connor, she adored a misfit. Her writing—full of immigrants, circus animals, freaks, socialists, hipsters, servants, and suffragettes—revels in the atmosphere of the "yellow nineties," a period characterized by Wildean decadence and art for art's sake. One of her articles begins, "There is something in the smell of Summer that makes one think of the smell of the sea, and the smell of salt and of heavy wet winds and of fish and the tangled mats of wet seaweed that come to shore, beaching themselves like wigs, somehow forgotten by tragedians strolling tragically by the sands." Her journalism is dense with ornament of this kind, luring the reader into a baffling linguistic dream. Sometimes—out of either fancy or carelessness—it grows utterly surreal, as when she comments of Wilson Mizner that he "has a laugh like a French pastry shop." Read More »
February 24, 2012 | by The Paris Review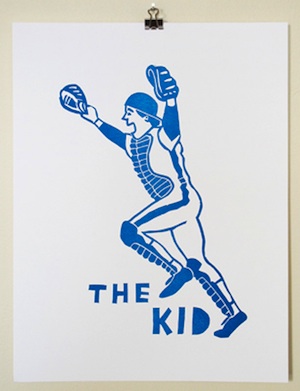 I am so excited to visit this Djuna Barnes exhibition at the Brooklyn Museum: it's an archive of her New York journalistic work between 1913 and 1919, frequently illustrated by the budding modernist herself. —Sadie Stein
"John had many moving parts, exploding in as many directions as one of his sentences," writes Jen Nesselin in one of the rememberances that round out the new collection of John Leonard's writings, Reading for My Life. "But he was, above all, an enthusiast." Those ecstatic, exhaustive, amassing—enthusiastic!—sentences, nestled in the pages of The New York Review of Books or Harper's or The New York Times, were a delight to me for many years. I'm even more delighted to have so many of them in one place. —Deirdre Foley-Mendelssohn
Joseph Cornell, mostly known for his shadow boxes, also made surrealist films. UbuWeb carries some dozen of them, including the rightfully famous Rose Hobart, the only movie to screen publicly during his lifetime—it sent Salvador Dalí into fits of rage, which sent Cornell's cinema into hiding. Yet it's The Midnight Party that really charms and disturbs. —Josh Anderson
"They free me from the prison of contemporaneity: one should not live only in one's own time. A wall of books is a wall of windows." Leon Wieseltier's hymn to having shelf upon shelf of books perfectly conveys the reason I'll never stop bringing books home. —Nicole Rudick
Recently I found myself watching a lot of Israeli cinema. I began with Or, about a daughter struggling to support her mother and keep her out of prostitution, and moved on to Jaffa, about a secret affair between a Jewish woman and an Arab man—both brilliant films featuring the splendid Dana Ivgy. —Natalie Jacoby
For those fond of the scandalous and confessional, take a look at these diaries of the famous. A perfect reading list for the voyeuristic. —Elizabeth Nelson
Of all last week's tributes to the late, great Gary Carter, the one that choked me up most was an emotional Keith Hernandez, who, back in the day, used to mock the exuberant and clean-living catcher. I also love Left Field Cards's tribute to "The Kid," the proceeds of which go to the National Brain Tumor Society. —S.S.