Posts Tagged 'Dexter Gordon'
October 23, 2013 | by Aaron Gilbreath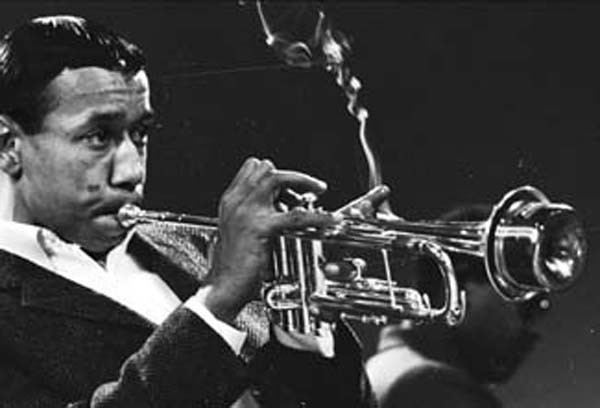 In 1965, celebrated jazz trumpeter Lee Morgan released the song "Speedball" on his album The Gigolo. A year earlier, the title track from his album The Sidewinder had become the biggest hit in Blue Note Records's history, reaching number twenty-five on the Billboard LP charts, even appearing on a Chrysler TV commercial during the World Series. Although "Speedball" never attained the commercial success of "The Sidewinder," it endures as one of Morgan's best-known originals, and, with the possible exception of Art Pepper's album Smack Up, its title serves as the most barefaced allusion to the monkey on midcentury jazz's back.
Drugs, risk, rebellion—this unholy trinity seems more evocative of rock-and-roll longhairs than clean cut men in suits, yet these dark elements remain central to the jazzman archetype established by Charlie Parker. Between the midforties and early sixties, tons of talented players were strung out: Art Blakey, Hank Mobley, Sonny Rollins, Miles Davis, Grant Green, Dexter Gordon, Jackie McLean, John Coltrane. If Coltrane later provided a countervailing archetype—the sober, spiritually aware, gentle genius—then Parker embodied creativity's menacing, consumptive side. Morgan got lost between these poles. A promising, prodigy it-kid, he received his first trumpet at age thirteen. Five years later, he joined the Dizzy Gillespie Big Band. That same year, in 1956, he recorded his first Blue Note album as a leader, and soon after played on now legendary recordings such as Coltrane's Blue Train, at age nineteen, and Arty Blakey's Moanin', at twenty. His own early output ranks as nothing short of astonishing—eleven albums as a leader by age twenty-two—which is why his 1961 departure from Blakey's Jazz Messengers takes on the sinister weight of an omen. Read More »
January 26, 2011 | by Sam Stephenson
Monk called the tune "Two Timer"; Clark gave it a new name so he could claim composer's royalties. It was the move of a desperate, depleted junky. (W. Eugene Smith had cameras, lenses, and other equipment stolen from his loft by jazz junkies all the time, but, an addict himself, he wasn't one to judge. The thefts would leave him both distraught and ambivalent.) According to Robin D. G. Kelley's remarkable recent biography of Monk, the elder master treated Clark like a "troubled younger brother," and he never did anything about the stolen tune. Chances are that by the time Monk heard McLean's record and realized what had happened, Clark was dead, or in some other condition that made a reprimand irrelevant.
In the last eighteen months of Clark's life, he would climb to daylight for brief periods, breath clean air, play some beautiful music, and then sink to lower and lower depths. In the August 1962 issue of the invaluable, idiosyncratic Canadian jazz magazine, Coda, there was this report from New York by Fred Norsworthy:
One of the saddest sights these days is the terrible condition of one of the nation's foremost, and certainly original pianists. Having been around for many years he came into his own in 1959 and no one deserved it more than he. I feel that something should be done about drug addiction before we lose many more artists. I saw him several times in the past three months and was shocked to see one of our jazz greats in such pitiful shape. Unfortunately, the album dates that he keeps getting only help his addiction get worse instead of better. Whether or not he licks this problem at this stage of the game remains to be seen. In some cases people refuse help and the loss of a close friend was no help either. If anything he took a turn for the worse and disappeared for 3 weeks. However right now should he die it will at least be better than living a slow death with no relief in sight.
The pianist is almost certainly Sonny Clark. That same month, he cut two classic Blue Note albums under the leadership of saxophonist Dexter Gordon, Go and A Swinging Affair. When Clark died five months later, Gordon remembered these sessions in a letter to Blue Note impresarios Alfred Lion and Francis Wolff: Clark had "almost totally given up" on his life, Gordon wrote. Yet judging from the surviving albums, he still cooked on piano. Several of Clark's solos are top notch, but in this rhythm section with Butch Warren on bass and Billy Higgins on drums, he conducts a clinic on how to play sensitive, sparkling piano accompaniment behind a soloing saxophonist, in this case the atmospheric Gordon. Clark didn't appear to give up on anything musically. Many years later Gordon remembered Go as among his career favorites.
On October 26, 1961, Sonny Clark reported to Rudy Van Gelder's studio in Englewood Cliffs, New Jersey, for a recording session led by alto saxophonist Jackie McLean. Clark brought with him a new composition he called "Five Will Get You Ten." He was an effective composer, and his tunes were welcome at most sessions. However, this one he'd stolen from Thelonious Monk. He had probably seen the sheet music or heard Monk working out the tune on the piano at the Weehawken, New Jersey, home of the Baroness Pannonica de Koenigswarter, who routinely made her home a rest stop and clubhouse for jazz musicians.