Posts Tagged 'debut fiction'
January 8, 2015 | by James Yeh
What's immediately striking about Thomas Pierce's debut story collection, Hall of Small Mammals, are its wild, unforgettable conceits. In "Shirley Temple Three," a long-extinct dwarf mammoth is cloned for a TV show, then dumped off in a small Southern town with Mawmaw, the show host's mother. In "More Soon," the body of a man's brother is shipped all over the world because of worries over a mysterious contagion. In "Videos of People Falling Down," the lives of a host of characters—a local-news reporter, a right-wing Listserv manager, a cheesy pop singer—converge and intertwine through the shared humiliation of having been filmed while falling. But Pierce's characters never feel secondary to his plots. They are resoundingly human, with their bundles of worries, joys, dreams, and burdens, their beliefs, theories, and suspicions, their wanderings and wonderings.
Pierce and I first met in 2000, as students in a high school summer program in South Carolina, our shared home state. Even then I was impressed by his charm and intelligence, and his lively, slightly askew sense of humor. In 2013, my magazine, Gigantic, published his story "Time to Get Radical," a funny and unexpectedly moving catchphrase-driven monologue that in around twelve hundred words manages to capture the highs, lows, and in-betweens in the life of one semi-religious auto-parts salesman someplace down South.
This interview took place over a series of e-mails and a shared Google Doc, along with two in-person meetings—in his hometown of Spartanburg, South Carolina, and in Charlottesville, Virginia, where he now lives.
You worked for five years at NPR as a blogger, reporter, and producer. How has this experience informed your work?
In radio, you're always aware that you have to win the listener's attention. You're wrestling them away from their breakfast or their drive or kids. So lesson one is to be interesting and engaging. You also learn quickly that the best sentence to read over the air is usually the simplest one—complex ideas don't necessarily require complex sentences. Don't get me wrong, I love beautiful, confusing sentences, too, but I also value clarity—and radio helped me in that regard.
You may only have ninety seconds to tell a story on the radio. When you write a radio script, there's software you can use with a little clock in the upper right-hand corner that tells you the piece's length in terms of time. This helps you to remember that what you're creating will occupy a portion of a person's day. One of my short stories might steal forty-two minutes from your life. I want to use your time wisely. Read More »
September 21, 2010 | by Lorin Stein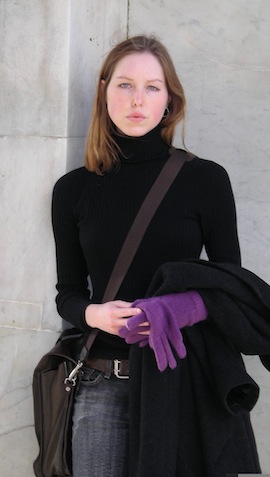 April Ayers Lawson's short story "Virgin" appears in our new issue. It is Lawson's first appearance in a magazine with national circulation. Last week she was kind enough to answer a few questions from her home in Greenville, South Carolina.
In "Virgin" you describe sexual frustration and desire very convincingly—and very specifically—from a man's point of view. How did you do it?
Close observation. Male frustration seems to me more focused, more linear, than female frustration. This interests me a lot. Also, I enjoy asking men about what they think it means to be a man. I like to hear about the women in their lives—how they view their mothers, sisters, girlfriends, wives. I like to try to understand what it means to be "manly," what it means for a man to think he's failed to be manly. The more I understand men, the more I understand women.
Also, when a story is about women—I consider the story to be mostly about the women—it makes more sense to me to feel them from the perspective of a man.
Did you ever feel out of your depth?
The perspective came naturally. If it didn't I'd have aborted. When I write I'm doing it as an act of discovery. Also to get high. What I'm writing should feel at least as real to me as what's physically around me. It should rise out of and also sustain a heightened sense of emotional reality. Otherwise, no point, no pleasure.
The stories of yours that I have read are all set in the South among Evangelical Christians. Do you write with a Southern Christian reader in mind? Read More »