Posts Tagged 'Deborah Baker'
November 8, 2012 | by Sadie Stein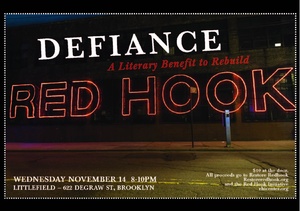 Last week, the waterfront neighborhood of Red Hook, Brooklyn, was one of the areas shattered by superstorm Sandy. On Wednesday, November 14, join host Kurt Andersen; musicians Steve Earle and Stew; novelists Joseph O'Neill, Sam Lipsyte, and Rivka Galchen; nonfiction luminaries Phillip Lopate, Chuck Klosterman, Philip Gourevitch, Meghan O'Rourke, Deborah Baker, Robert Sullivan, and others for Defiance: A Literary Benefit to Rebuild Red Hook. Readings will center on the themes of recovery and rebuilding, drawing on more than two centuries of literature about the historic neighborhood.
The event takes its name from Fort Defiance, the revolutionary-era citadel that once loomed over Red Hook, keeping ferry routes clear for General George Washington's Continental Army. One hundred percent of the proceeds from the evening will be divided between two nonprofit organizations that are leading Red Hook's post-Sandy recovery, Red Hook Initiative and Restore Red Hook. Learn more and buy tickets here.
[tweetbutton]
[facebook_ilike]
July 7, 2011 | by Deborah Baker
the wait
. Sometimes you receive a laundry list of grievances. Sometimes word trickles back of rage and feelings of betrayal. There might be a letter from a law firm or simply a punishing silence. When all is said and done, the person you have written about has a kind of hold over your work that a reviewer can only dream of. I'd nearly given up waiting when there it was, wedged between the water bill and a bank statement, an airmail envelope addressed to me. Familiar handwriting, familiar return address in Lahore, Pakistan.
My first book was a biography of an obscure American poet born in 1901. When I approached her in 1989, she was living as a recluse in a Florida citrus grove. Fifty years before, she had not merely renounced her own poetry but everybody else's as well. Through an intermediary, she conveyed to me that I should write a sample chapter (she assigned the topic). If it met with her approval, we would work together on her biography. She could use a secretary, she said.
But before I could reply, she fell ill. When she heard I had proceeded without her, she wrote me angrily, calling me "sluttish." Her minions sent me lengthy poison-pen missives, dissecting my character. She never read a word of what I'd written. The day after I sent the final manuscript to the publisher, she had a heart attack, as if my book and her life were paired like Siamese twins and I had killed her by finishing it. This is the kind of magical thinking that binds the biographer to her subject.
Anyone who has ever written about a living person knows