Posts Tagged 'David Kalstone'
September 4, 2012 | by Alice Bolin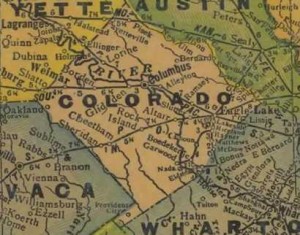 The draw of the Yeah Yeah Yeah's classic breakup song "Maps" is that it is as plainly sad as possible. "Wait," the band's lead singer, Karen O, sings over and over, "they don't love you like I love you." But "Maps" is also enigmatic: beyond its abject chorus, the lyrics are cryptic, with verses that are brief and opaque—"Packed up / Don't Stray / Oh say, say, say / Oh say, say, say." Karen O repeats maps, plaintive and without context, stretching the word's aaa over four bars.
According to fan mythology, "Maps" is an acronym for "my Angus please stay," referencing Liars lead singer Angus Andrew, whom Karen O has said the song is about. There may be other ways to read the song's title, though. "Maps" evokes the physical and metaphorical distance that is felt from a lover who is leaving. It is a kind of emotional cartography, mapping two people's painful journeys away from one another. This will serve as our foundation: maps aren't impersonal, objective. They aren't.
February 2, 2012 | by Edmund White
I've loved Pound since I was a teenager. My first lover, Charles Burch, who was a poet himself, used to read Pound to me and swoon over it. I feel that most of our enthusiasms are imitated from people we admire or are in love with, and so this particular poem I used to read to David Kalstone, the great poetry critic and champion of Elizabeth Bishop, who was also my best friend. He introduced me to so much great modern poetry—Merrill, Bishop, Ammons, Ashbery—so I was happy to introduce him to a poem that had so much resonance for us as two friends.
Ezra Pound's beautiful translation of a poem by Li Po, from Pound's great early book Cathay, is a compendium of all his many gifts. Somewhere Pound says that the ideas in poetry should be simple, even banal, and universal and human; he points out that the chorus in Greek tragedies always sticks close to home truths of the sort "All men are born to die." "Exile's Letter" has this universal simplicity ("There is no end of things in the heart"). It is about the sadness of parting from dear friends. As someone who was himself often living far from writer-friends, Pound knew all about the exquisite melancholy of leave-taking. Read More »