Posts Tagged 'David Denby'
August 1, 2013 | by Katie Ryder
At the turn of the nineteenth century into the twentieth, a young Abanaki Native American woman named Margaret "Soaring Dove" "Dark Eyes" Tahamont moved from her home in the Adirondacks across the country to Los Angeles to play in the moving pictures. She was born in Indian Lake, New York, where her extended family—a mixed group of Abanaki, Oneida, and Anglo ancestry—had been well established since the town's founding, owning substantial land, running an inn for visitors to the region from New York City, and employing many town residents as laborers.
Margaret, born Camp, judging from all photographs of her Indian Lake family, was raised in the costume of any white northerner. Her cousin Emma, near Margaret's age, can be seen wearing a high loose bun, plush woven hats, and carefully tailored dresses covering from the high neck to the wrist, puffed at the sleeves, pintucked across the bodice, and lightly trimmed with lace.
But Margaret moved to Los Angeles to perform as an Indian in plays, Indian hobby societies, and early silent films. She now wore long braids, leather, beaded headbands, moccasins, and performed under the name Dove Eye. Her husband Elijah Tahamont, or Dark Cloud (also Abanaki, from Quebec), had been acting in silent films made in the Adirondack region—what would later be known as the "eastern Westerns"—including at least a few with soon-to-be famed director D. W. Griffith, and when eastern production companies began to move west to join nascent Hollywood corporations, the Tahamonts went along. Elijah, as Dark Cloud, played in over thirty titles; Margaret in at least five silent shorts, and likely more—the idea of preserving film and film records still lying a bit ahead on the horizon. Read More »
January 4, 2013 | by The Paris Review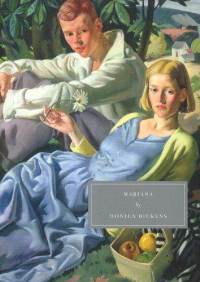 On the train down to Washington I read "Stage Mothers," Elif Batuman's article about a women's theater troupe in rural Turkey, and kept pretending to have a cold so the guy sitting next to me wouldn't think I was crying over the international issue of The New Yorker. Even by Batuman standards, it's a knockout. If you missed it, go fish it out of the recycling. (Then read her conversation with J. J. Sullivan in the current issue of the Review.) —Lorin Stein
In her introduction to Monica Dickens's Mariana, recently rereleased by the unimpeachable Persephone Press, Harriet Lane describes it as a "'hot-water bottle' novel, one to curl up with on the sofa on a wet Sunday afternoon." And this story of a young girl growing up in England in the 1930s is certainly comfort-reading at its finest. While dated at points (the moments of casual anti-Semitism are certainly jarring), it's a fun read, breezy and funny and often touching, with beautifully observed bits of everyday life throughout. Dickens, the great-granddaughter of Charles, was a prolific and popular author; for anyone with multiple winter Sundays to fill, I'd also recommend her 1939 memoir One Pair Of Hands, which details her stint, much to her family's chagrin, as a cook-general in some of London's wealthiest households. —Sadie O. Stein
Before the holiday break, I had some time to explore my Netflix account and found, to my excitement, a hidden gem entitled Rare Exports: A Christmas Tale. "This unusual Christmas story is set in the frozen beauty of Finland," the description reads, "where local reindeer herders race to capture an ancient evil: Santa Claus." What more could you ask for, to prepare yourself for holiday travel and awkward family soirees, than an R-rated horror film that has more in common with Die Hard than It's A Wonderful Life? Filled with dry Scandinavian wit and reindeer slaughter, while this isn't a film for the whole family, it's one that'll be playing in the Alvarez household for many Christmases to come. —Justin Alvarez
In a bout of plain old mean-spiritedness, I've been relishing the bad reviews of the film Les Misérables. Hugo's book is among my all-time favorites—there's just something about those sweeping nineteenth-century social novels—so much so that I wanted to change my name to Jean Valjean after reading it (a confession that brought ridicule from my colleagues here; I stand by my dream). The casting of the film is so absurd, as is the excessive emotion. Oh, the drama! Oddly enough, I inadvertently took David Denby's advice to those who liked the film to watch Singin' in the Rain as an example of what good musical theater can be. And he's right: I loved it. —Nicole Rudick
Holidays are certainly the best time to try out new recipes; most people are pleasantly surprised by an unfamiliar dish amongst the old family standards. My sisters and I have a Twelve Days of Christmas party each December and always aim to have a few things on the buffet that weren't there the year before. This time around, my older sister's wassail was the hit of the night, not in the least because it comes with a great history that necessarily involves the host singing one (or more) of the many carols about drink. Seeing as it's Christmas until Sunday, I'm planning on enjoying another batch of wassail before the season ends. —Clare Fentress
Perhaps few will share my excitement about the following: there is an audiobook of The Golden Bough, and it is free, and you can download it here. —S.O.S.