Posts Tagged 'Danny Boyle'
July 31, 2012 | by Rafil Kroll-Zaidi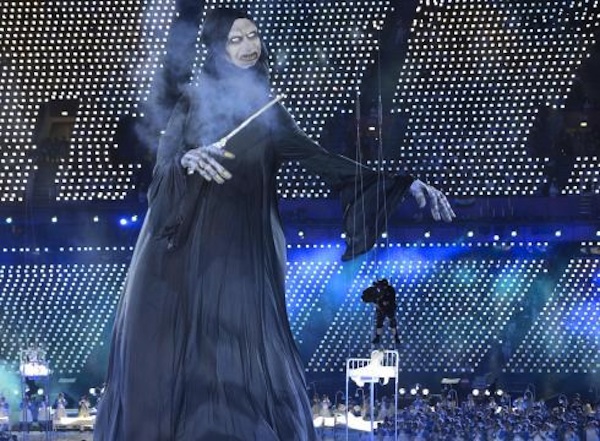 At the 1904 St. Louis Olympics, to which Britain did not send a delegation but at which it did earn two medals by virtue of owning Ireland, the first-place finisher in the marathon, a New York City bricklayer, was disqualified for having covered eleven miles of the course by automobile. The runner-up, a British-Bostonian brazier competing for America, whose trainers had administered him strychnine and brandy and egg whites and who had been borne along by officials for part the race, was declared the victor. At the 2012 London Olympics, in a video clip shown during the opening ceremony, the comic actor Rowan Atkinson (as Mr. Bean) was digitally inserted into the beach run that opens Chariots of Fire; imagining the scene as a race, Atkinson flags, veers offscreen, then overtakes the other runners in a car, rejoining the pack just in time to win.
Such filmed-to-order interludes, which cutely recontextualize iconic personages for special occasions, are familiar from Academy Awards broadcasts, and their appearance in a live Olympic commencement marked conspicuously the London show's direction by British filmmaker Danny Boyle. Read More »
June 3, 2011 | by Tom Bunstead
Novelist Joe Dunthorne's delightfully British debut, Submarine, is told from the point of view of teenager Oliver Tate, whose twin mission is to lose his virginity by his sixteenth birthday and to salvage his parents' ailing marriage. The film version, which was adapted by Richard Ayoade, was picked up by Harvey Weinstein and Ben Stiller and opens today in the U.S. I spoke with Dunthorne not long ago about his experience working with Ayoade and the process of adaptation.
Harvey Weinstein is notorious for cutting films to make them more palatable. Have there been any significant changes to the film ahead of the American release?
One thing they've added is a card at the start saying something along the lines of "Dear Americans, I am Oliver Tate. I come from a country called Wales, which is near England. You may have heard of famous Welsh people like Catherine Zeta Jones and Anthony Hopkins. You have never invaded Wales, and for that we are thankful" and so on. It's a kind of introductory card, which is written by Richard Ayoade, the director, at Mr. Weinstein's suggestion, and the idea seems to be that it needed signposting as a comedy. Whether that's a judgment on the book, or the film, or American audiences, who knows!
At least they didn't do a Trainspotting and subtitle it …
The Welsh accents weren't quite thick enough to warrant that. Trainspotting is an interesting link though, because it showed that something may be key to the novel but that doesn't necessarily make it key to the film. You know how in the book of Trainspotting there's that absolutely crucial scene where Begbie meets his father down by the train tracks—which is where the title comes from—well, Danny Boyle did away with that. There was something I felt was key in Submarine the novel, namely the revenge of Zoe, the fat girl whom Oliver and his friends bully, but with the film script, it suddenly became expendable. In the book, it's when Oliver gets his comeuppance for being a bit of a shit, so it's important in terms of his "coming of age," but for the film it felt too peripheral.
What you end up asking yourself is, is there room in a film for something that sits at that sort of tangent to the narrative? A scene that's somehow faraway from the story but remains important. Maybe not. Maybe it's something to do with the linearity of film, or maybe simply the two or so hours of viewing time doesn't allow for those sorts of digressions.