Posts Tagged 'customer service'
March 3, 2014 | by Sadie Stein
Over the weekend, for reasons too silly to get into, I decided to change my phone number. It was a surprisingly emotional process. I have had this, my first phone number, for some twelve years, and there was something bittersweet about abandoning the area code of my parents' suburban home. A great deal of the difficulty, however, arose from my own incompetence, a faulty Internet connection, and a confusing and ancient family plan. Long story short, I accidentally changed my dad's number instead. The result was a small transcontinental panic, a volley of hysterical phone calls, and several confusing texts from my friends, each of which my dad apparently greeted with a suspicious "whoisthis?"
I was sure some enterprising suburbanite would snap up my dad's abandoned 914 number before I could reclaim it, and my anxiety only grew as the automated voice on the customer-service line cheerily informed me that there was an unusually high call volume and the estimated wait time was eighteen minutes. I bit my nails and refreshed my browser every few minutes to find out if anything new had happened in the news, if, for example, we had sent troops into Ukraine. On speaker, the voice droned on about various mobile plans.
In the meantime, I took a call from my dad. "We're very concerned," he said. "Do you have a stalker? Is that why you're changing numbers?"
"No. I don't want to get into it. It's complicated," I said. "I just need a new number. And you have to stop watching the murder channel."
"We can't. The murder channel figures very prominently in our rotation. And every time a young woman is killed, we discuss the odds of the same thing happening to you."
"No one's going to murder me."
"They all think that." Read More »
September 20, 2012 | by The Paris Review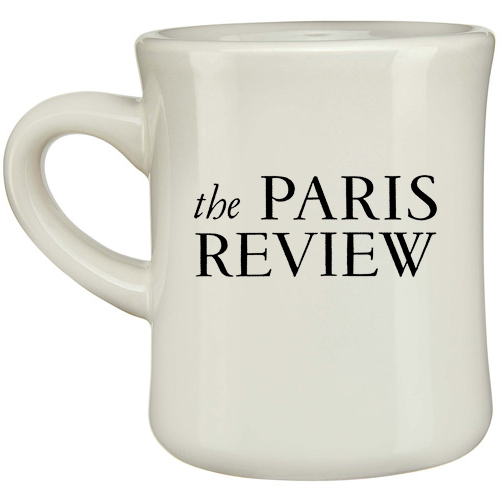 Friends! We are so excited about the enthusiasm with which you have greeted our super-duper new mug! (We can't wait either.) But we wanted to warn you: due to a slight print delay, they'll be shipping out a little later than we planned. We didn't want you to worry and thought we'd tell you right away: you will get your mug in plenty of time for fall cider sipping!
They will arrive in early October, so sit tight!