December 5, 2012 | by The Paris Review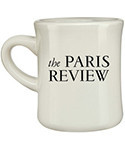 When we announced our special mug offer, cries were heard across the land: We already subscribe! We want to give the mug as a gift! We want two, three, four! Rest easy: the special-edition Paris Review diner mug is now available to everyone, for all your coffee-drinking and gift-giving needs.
One side features our logo in black; the other, praise for the magazine from Newsweek in 1953: "The first really promising development in youthful, advance guard, or experimental writing in a long time." We at the TPR offices can vouch for it. Supplies are limited. Buy it now!