June 30, 2015 | by Jesse Browner
A sentence goes viral—why?
I recently discovered that a sentence of mine, written many years ago in a book that had enjoyed some critical praise but disappointing sales, had gone viral.
I suppose I google myself about as often as any writer does, and I hope not more often, but on the occasion of my discovery I was doing so at someone else's behest: in preparation for a new book, my publishing house had asked me to compile a portfolio of reviews of my previous books. As I scrolled through the search results, hunting for newspaper and magazine URLs, I became aware that I was seeing the same words and sentence fragments over and over again in the highlights at the top of each hit. "Eating…" "…communion…" " …hospitality in general…" The combination sounded vaguely familiar. I finally tracked down the full quote at Goodreads.
The book, The Duchess Who Wouldn't Sit Down, from 2003, is an anecdotal history of hospitality in Western civilization, in reverse chronological order from Nazi Germany to Homeric Greece. The sentence, hidden deep within the body of the book and in no way positioned to draw attention to itself, reads as follows:
Eating, and hospitality in general, is a communion, and any meal worth attending by yourself is improved by the multiples of those with whom it is shared.
September 13, 2012 | by Casey N. Cep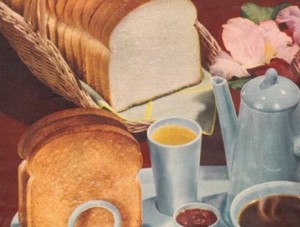 One of Mary Oliver's poems begins "Something has happened / to the bread / and the wine." A most unusual mystery, the comestibles have not gone the way of the plums in William Carlos William's "This Is Just to Say."
Oliver's wine and bread, as she explains in the second stanza, "have been blessed." These two central elements of the Christian faith have been lifted from their ordinariness, isolated in order to show the extraordinariness of even the most ordinary of things. The bread and the wine join water and words to become what believers call sacraments: Eucharist is a sacrament made from staple food and festive drink; baptism is a sacrament made of clean, clear water.
One way of understanding the sacraments, perhaps best articulated by liturgist Gordon Lathrop, is that simple things become central things. When Christians refer to the bath and the table, they refer not only to the specific sacraments of bathing and eating, but they point also to the sacramental character of every bath and every table. The setting apart of one table and one bath shows forth the splendor of all tables and all baths.
That setting apart is the calling of Christians but also the vocation of the writer. Read More »