November 6, 2012 | by Jillian Steinhauer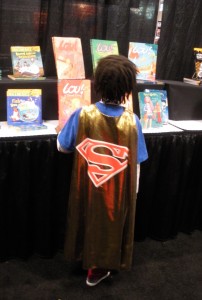 Much has been said and written about New York Comic Con. It's weird, it's magical, it's overwhelming, it's hell on earth, it's the best event in the world. If you've ever attended, it's easy to see how all of these things could subjectively be true. Only one thing seems objectively true, however: Comic Con is utterly unique (unless you count San Diego Comic-Con, which seems to be the only comparable event in the United States, and which I've never attended).
Here is a list of things you can buy at Comic Con: the video game Just Dance 4, anime DVDs from Japan, K-pop posters, books titled How to Be Death and Victorian Sexual Positions, your zombie portrait drawn for $19.99, your superhero portrait photographed for $10, a steampunk corset, potions, comics-related earrings, sriracha-themed boxer briefs, "premium" (the seller's word, not mine) hugs for $2, a photorealist painting of superheroes for $2,495, Nancy Drew manga, the Bible as manga, an autograph (free), and a picture of a girl dressed as hipster Hitler (also free).
One thing they don't sell yet: strollers. But it's only a matter of time. As a man I overheard on Sunday afternoon astutely observed, "Yo, they should sell strollers here! They'd make a killing."
At Comic Con—and for many blocks north, south, and east of the Javits Center, which hugs the West Side Highway—you can see adults and children alike dressed up as Batman, Robin, Batgirl, Superman, Captain Marvel, Mario, Luigi, Transformers, and at least a hundred other characters I couldn't identify. People attend discussion panels while painted blue or stroll the aisles in their underwear.Read More »