Posts Tagged 'colonialism'
May 2, 2013 | by Scott Esposito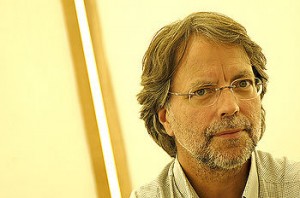 Born in 1955 in Mozambique, to Portuguese immigrants, Mia Couto is widely considered one of the foremost wielders of the Portuguese language. He has written more than twenty books that have been translated into at least as many languages, and those translated into English since 1990 have garnered him a dedicated Anglophone following. Although Couto's fiction varies widely, he frequently deals with Mozambique's civil war, which erupted in 1977, two years after he turned twenty and his nation gained its independence from Portugal. His recurrent use in his work of surreal effects has led many critics to liken his fiction to Latin America's magical realism, a label at which he bristles.
The Tuner of Silences, brought into English by Couto's longtime translator David Brookshaw and published this year by Biblioasis, tells the story of Vítalico, a father who has dragged his children to an abandoned Mozambican nature preserve after the horrifying death of his wife. As Couto explores the nature of Vítalico's regime and its eventual collapse, he delves into frequent obsessions: the construction of identity and the role that memory and language play in that process.
Recently, over e-mail, I discussed Tuner, influences, labels, and the curious provenance of Couto's first name in our e-mail correspondence.
You've mentioned the Angolan writer José Luandino Vieira and the Brazilian João Guimarães Rosa as two influences on your understanding of the Portuguese language. What sorts of cultural influences from within Mozambique have you drawn from?
I usually refer to Luandino and Guimarães Rosa as those who inspired me most, but the most important influences on my writing come from those I can't identify, persons that populated my childhood, my hometown in the Indian ocean, the neighborhood where I was born and where I started to dream about other places and other lives. So, ironically, the main source of inspiration of my writing came from the nonwriting world. Oral culture is still dominant in Mozambique, and the ability to convert reality into stories is still very alive here, even in the urban areas. Storytelling is not exclusively a skill of the griots—the common citizen shares this capacity, telling stories not just with words but with their whole body, using dance and songs and poetry as a unique language. Read More »
June 25, 2012 | by Randy Boyagoda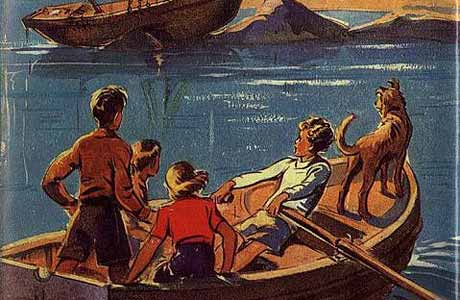 Most mornings this past winter—the Boyagoda household already running late—I discovered my oldest daughter reading at the kitchen table: one boot on, gloves, hat, knapsack, and other boot nowhere to be found. So immersed was she, so indifferent to my pleas and threats, that finally I had to pull the book from her grasping hands just to make her finish dressing for the cold walk to school. This experience has made me more sympathetic to my mother, who once spanked me in a grocery store because I wouldn't stop reading a book. It was by Enid Blyton, the British children's writer who wrote some 400 nursery, fantasy, and adventure series titles that have sold more than six hundred million copies worldwide, mostly in Britain and the former colonies, including Sri Lanka—where as a girl my mother herself first encountered Blyton. I recently bought one of Blyton's books for my own daughter. But before passing it on, I decided to reread it.
The book seemed innocuous enough. As with all of Blyton's adventure stories, it was about boys and girls drawn into mysterious doings while on summer holiday. Bickering but loyal, they best adults who are either distracted and dismissive, or criminals capable of outsmarting everybody but the kids. Working this premise for decades and dozens of stories, Blyton enjoyed great success—at the time of her death, a book club devoted to her work had some 200,000 members in Britain alone. But because that success depended upon such patterned writing, she was also accused by librarians, teachers, and academics of relentlessly dulling the imaginations of her young readers, and of unjustly encouraging those who were reading her from abroad to make identifications that race, geography, history, and politics preemptively denied them. This certainly seems to have been the case for the Nigerian novelist Chimamanda Ngozi Adichie; in a 2006 interview with The Times, she explained that her development as a writer was stunted by her early reading: "When I started to write, I was writing Enid Blyton stories, even though I had never been to England. I didn't think it was possible for people like me to be in books." Similar notions affect the eponymous protagonists of Jamaica Kincaid's novels Lucy and Annie John, who both declare they wish they were named Enid, after their favorite author. For both the young Adichie's and Kincaid's characters, mimicry and the desire for renaming aren't simple expressions of literary admiration; they're also rejections of the children's African and Caribbean worlds, which have been diminished by their very immersion in Blyton's books. The Blyton reading experience likewise impacts a colonial child's maturation in Rohinton Mistry's novel Family Matters, in which an intelligent Indian boy grows up reading her books and from this develops a dismissive attitude towards the foods and places and names that figure in his Bombay life. When self-loathing and alienation begin to build, he stops reading her; later, noticing her books on his shelves, he admits, "I can't bear to even open them. I wonder what it was that so fascinated me. They seem like a waste of time now."