May 29, 2014 | by David Gendelman
The coaches of the World Cup are more invested in the outcome of the match than almost anyone else on the planet. Players return to their league club between national-team matches—coaches don't. They simply grit their teeth and bear the weight that comes with carrying an entire country's sporting expectations on their shoulders.
"Your biggest question before you take the job is not, do you put them 4-4-2 or 4-2-3-1," Slaven Bilic, the former coach of the Croatian national soccer team, said, referencing different soccer formations. "The biggest question is, can you cope with the pressure?"
One of the great World Cup coaches of all time was César Luis Menotti, the manager of the 1978 Argentina championship team. El Flaco, or "the thin one," as he was known, had a long flop of side-parted dark hair and thick sideburns, and he routinely used nicotine to help him cope with the pressure—he was rarely seen without a cigarette. It seemed to work, too. He may be the only person that Diego Maradona has ever referred to as God, other than Diego Maradona himself. Menotti's reputation in later years became so great that he developed a group of followers known as Menottistas. And as with nearly all of the great coaches, his strategy possessed a blend of philosophy and artistry. He once said, with a lively spirit of abstraction, "A team above all is an idea." Read More »
March 7, 2012 | by A-J Aronstein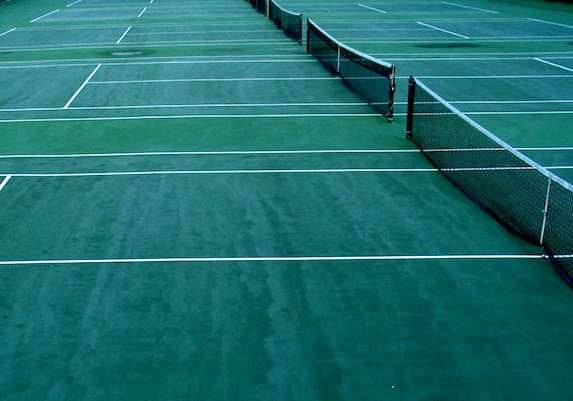 Three months before I was born, my father bought an eight-court outdoor tennis club on three acres of land in New Rochelle, New York. The club sits at the bottom of what amounts to a gully, down the block from a swampy lily pond that overflows during thunderstorms and floods the basements of the handsome Tudor homes in the neighborhood.
The courts themselves are made of a material called Har-Tru, a gray-green clay that smells like a mixture of coffee grounds and fresh-cut grass. It's soft and easy on the knees, perfect for middle-aged investment bankers and ad executives but more difficult to maintain than hard courts.
When it rains, the material softens, expands like a sponge, and turns into a shallow lake. During dry spells, it gets chalky and swirls around on warm breezes. Like lunar dust, Har-Tru sticks to everything. It gunks up sneakers, stains white tennis shorts, and accumulates in socks. As a kid, over the course of a given summer, I'd transfer an entire court's worth of Har-Tru to our living room.
The courts were our family's livelihood; their quality was a matter of pride for my father. Like a farmer who knows the precise chemical composition of the soil in his fields, he could step out on the courts, sniff the air, and know whether to water them or let them bake in the sun. He never read weather reports (he called weathermen "crooks") but developed meteorological instincts. He sensed drops in barometric pressure and intuited the approach of autumnal cold fronts.
"Rain's coming," he'd say, looking out over the courts like an Oklahoman homesteader.
Even when I went south to the University of Virginia, I found Har-Tru waiting for me. The company that manufactures it boasts on their homepage that Har-Tru comes from "billion-year-old Pre-Cambrian metabasalt found in the Blue Ridge Mountains." I could have walked to their corporate headquarters from the center of campus. Charlottesville has brilliant sunsets thanks to the airborne coal dust carried on the wind from mines in West Virginia. I couldn't help but stare at yellow-orange-pink skies over the Blue Ridge in autumn and think, Look at all that Har-Tru.