November 22, 2012 | by Edward McPherson
Today marks the fiftieth anniversary of the assassination of John F. Kennedy. With all eyes on Dallas, it seemed fitting to re-run one of our favorite pieces from 2012, an ode to the city and its complicated legacy.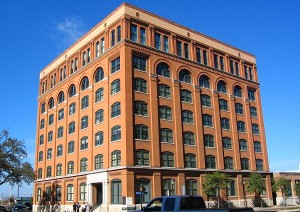 [Read part 1 here.]
Have you ever seen Dallas from a DC-9 at night?

Dallas is a jewel, Dallas is a beautiful sight.

And Dallas is a jungle, but Dallas gives a beautiful light.
—Jimmie Dale Gilmore, from the song "Dallas"
From a Boeing 737 on a sparkling fall day, Dallas looks like a patchwork of mottled greens and browns, the ground more rich and loamy than withered and sere, as if the coming winter were just nature's way of winking. The lakes are murky, the land billiard-table flat, laced with former wagon trails that have now become thoroughfares. Approaching the city, cloned suburban houses sprout in rows that curl and stretch with predetermined whimsy, the pools, tennis courts, and golf courses popping up at neat intervals. Divided expressways thread through the map, the roads laden with cars, pickups, motorcycles, and semis all going, going, going, even on a Sunday, even on a football Sunday.
I am flying into Love Field, an airport that has served Dallas since 1917, when the army named the flying field after First Lieutenant Moss Lee Love, who crashed and died in his Type C Wright pusher biplane four years earlier. Kennedy landed at Love Field at 11:37 A.M. on November 22, 1963. It is a Texas State Historical Site. I am flying into history.
August 9, 2011 | by Brian Gresko
Novelist Helen Schulman doesn't shy away from controversial subjects. Her last novel, A Day at the Beach, examined a marriage that falls apart hour by agonizing hour over the course of September 11. Her latest, This Beautiful Life, follows the Bergamot family. They seem a picture of success: Richard a high-powered if overly-committed university man, Liz the stay-at-home mom, Jake a high school student on the road to college, and Coco, their adopted daughter of seven. When Jake finds himself the recipient of an erotic video made by a thirteen-year-old with a crush, Daisy, he forwards it to his friends. The video goes viral, the story becomes tabloid fodder, and the repercussions undo his life and bring the fissures in Richard and Liz's relationship to light. In Spring 1995, The Paris Review published the story that grew into her novel The Revisionist. Schulman, now the Fiction Coordinator of The New School's Writing Program, chatted with me about the book over a campari and soda and homemade potato chips.
What led you to write This Beautiful Life?
It started with what was happening in the news—the beginning of "sexting." One incident in particular, at Horace Mann, had been written up in The New York Times and caused a scuttlebutt among the mothers. I thought I would write a nonfiction book about it, so I wrote Horace Mann, but I was totally stonewalled. Nobody wanted to talk to me. And so I thought, Well then, I'll make it up.
Do you feel novelists have a responsibility to make social commentary in their work?
If you tell the truth about the world, you're always being political, because the world is so highly charged. In these last two books I looked at the times we were living in very closely, almost as if I were a photographer or a social historian. In A Day at the Beach, I was really interested in the culture at the moment of a big event. I wanted to write about the nineties, but I didn't know how until 9/11 crystallized it. For This Beautiful Life, there were several events in the decade post-9/11 that interested me. One was the incredible, unparalleled greed and rush for money. Another was the Internet infiltrating our lives in a new way. The Internet created a divide between parents and kids even larger than sex, drugs, and rock had in the sixties. Read More »