October 16, 2012 | by Kate Levin
One recent weekday afternoon, I left my apartment in Los Angeles, walked three blocks, and bought a movie ticket. I was at liberty to see a movie in the middle of the day because I had just left my job, having decided to spend some time not "working," but writing—and I needed to see a movie because the writing was not working. There was no writer's block, per se: words trickled out, they were just terrible in that first-draft-fiction way. Compounding this writerly self-doubt was the uncomfortable feeling that I'd invoked a huge privilege—namely, a class privilege (my household could get by for a time, our dogs' pampered existence intact, without my salary)—to produce a Word document full of tired characters and clichés. Worse still was the suspicion that I was, myself, a tired character and a cliché: too neurotic and guilt stricken to enjoy this temporary luxury and try to do something good with it.
And so, off to the movies. I'd just read about the documentary The Queen of Versailles, said to be the "riches-to-rags" story of a billionaire time-share mogul and his wife forced to cease construction on their new ninety-thousand-square-foot home (the largest in America, once finished) when the economy collapsed. So I chose that one: it was well reviewed, prize winning, and very much of the broader world, a good counterweight to the swimmy interiority of novel drafting. I was also drawn to it because it sounded like the kind of movie I would see with my dad back when I lived in New York; he and I would meet up at the Film Forum after work, usually for some edifying progressive documentary—The Trials of Henry Kissinger or Bush Family Fortunes, say—the significance of which we would then gnaw on over pad Thai afterwards. I liked films like this, and talking to my dad about them, because they helped me make sense of the world, and because they drew clean, reassuring lines in my brain between justice and injustice. Which is to say, walking into The Queen of Versailles, I expected to see a movie about some greedy one-percenters getting their comeuppance and feel good about that.
In a sense, I did. David Siegel, the time-share king, made his billions by seducing people into buying time-shares they can't afford, largely by convincing them that the purchase will help them feel less like a working stiff and more like a rich person. This isn't an interpretation but a matter of record—we see his sales force in action, as director Lauren Greenfield captures them talking strategy, luring people to sign on the dotted line, and, later, trying to extract payments from distressed customers after the housing bubble bursts. At that point, when banks refuse to lend to David and he becomes a "victim" of the system from which he has profited so outrageously, we savor the irony all the more because, well, David is a schmuck. He brags to Greenfield about having helped deliver the 2000 election to George W. Bush through "extra-legal" means (the Siegels live in Florida), but won't elaborate. He channels his philanthropic impulses toward beauty pageants (Jackie Siegel, his wife, is a former beauty queen); a big patron of the Miss America organization, Siegel exudes lecherous entitlement when chatting up the young contestants at a party at his and Jackie's home. When the Siegels fall on what passes for hard times—droppings from their countless white fluffy dogs pile up around the house, their domestic staff having been reduced to one; Jackie starts shopping at Walmart; there is suddenly talk of an "electric bill"—David becomes irritable and withdrawn, generally making life miserable for Jackie and the couple's eight children. Partly because we know that the Siegels will always land on padded feet—even if their absurd imitation-Versailles mansion does slip from their grasp, a question that remains unresolved by the end of the film—it's easy to root against David.
Jackie is a more complicated case. Read More »
July 11, 2011 | by Misha Glouberman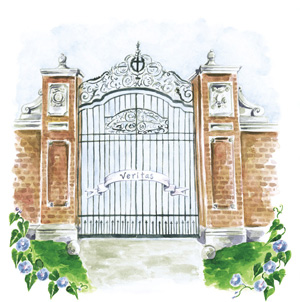 As told to Sheila Heti.
I grew up in Montreal and went to an upper-middle-class Jewish day school where kids had parents who maybe owned a carpet store or maybe were dentists. And then I went to Harvard for college. And it was pretty weird.
When I applied, I thought it would be great because I would get to meet lots of smart people. Those were the kinds of people I liked to be friends with, and I thought there would be more of them there. That was the main reason I thought it would be a fun place to be. I don't think I was super ambitious or professional minded or even a very good student.
The thing I figured out soon after I applied was that, on Gilligan's Island, it wasn't the Professor who went to Harvard, it was Mr. Howell, the rich man. That was something of a revelation.
It's funny, because what a lot of people talk about when they talk about going to Harvard is being really intimidated by the place when they arrive. I wasn't at all intimidated by the place when I arrived—but I was really intimidated after graduating.
I arrived at Harvard from Montreal, which is a pretty fucking hip place to be an eighteen-year-old. I'd been going to bars for a while, and I was in a political theater company that did shows in lofts with homeless people and South American activists. And we went to pubs and got old gay men to buy us drinks. It was a pretty cool, fun, and exciting life for a kid in Montreal. It was a very vibrant place, and young people were really part of the life of the city.
Then when I went to Harvard, the place was full of these nominally smart, interesting people, all of whom at the age of eighteen seemed perfectly happy to live in dormitories and be on a meal plan and live a fully institutional life. And that was completely maddening! This was the opposite of everything I'd hoped for from the environment I'd be in.