November 2, 2011 | by Francesca Mari
A few weeks ago I found myself accidentally enacting the drama of a book I was reading. The book was Homesickness: An American History, and I was reading it on the subway, somewhat embarrassed by the title, which, held up right in front of my face, was like a sign saying: Here in New York, I can't cut it. I comforted myself with the idea that I was only a few stops from home, where I could read safe from potential pity. But when I got to my door, I discovered that I'd locked myself out.
I looked up at my windows. I wished I could use the bathroom, foreign bathrooms costing at least a coffee. But it struck me that I didn't long to be in my apartment. My place, with its card table in the kitchen and mattress on the floor, is unsettled—I would feel as dislocated inside of it as out. I can't imagine what feeling settled here would look like; the only settled place I'm familiar with is the home where I grew up.
How long does it take to cultivate the feeling of home? I've been in New York for three years, on the East Coast for eight, and I've never suffered from acute homesickness. But still, when I'm called to define "home," I think of El Granada, a town of 5,436 that staked itself twenty-six miles south of San Francisco down the coast. I mean staked quite literally: between 1906 and 1909, Ocean Shore Railway, which was building tracks from Santa Cruz to San Francisco along what is now Highway 1, planted thousands of fast-growing, blue gum eucalyptuses with the hopes of flipping El Granada into a seaside resort for train-traveling San Franciscans. The railroad company also commissioned the eminent architect and city planner Daniel Burnham (famous for the Flatiron building) to plan the streets. They go in two directions, up the hills and around them, so that it looks from above as if a four-square-mile spider web has been draped over the thousands of trees. But the dream of El Granada was not to be. Two years later the railway company collapsed. The tracks were abandoned. Some speculators bought land, but the place never really caught on until computers did in the late eighties and nineties, and intrepid commuters from Silicon Valley bought BMWs and began building houses. Read More »
June 21, 2011 | by Rachael Maddux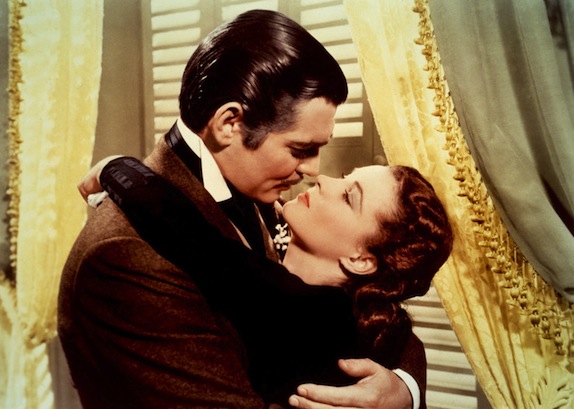 Margaret Mitchell was on her way to see a movie when she was struck by an off-duty cabbie driving too fast down Peachtree Street one night in Atlanta in 1949. Her death five days later cemented certain facts of her life, most notably that her first novel would also be her last. But she had made the most of her debut: in its nearly 1,500 pages, Gone with the Wind captured the romance and demise of America's Old South like none other before or since, sold one million copies within six months of its publication, secured a Pulitzer Prize for literature in 1937, and inspired one of the most beloved motion pictures of all time.
Little was said about Mitchell's death one recent evening in Atlanta, when several dozen of her fans—Windies, as they like to be called—gathered for a tour and graveside toast at the historic Oakland Cemetery, where Mitchell is buried and where her plot is among the most visited. The soiree was one of many held in and around the city this month in honor of Gone with the Wind's seventy-fifth anniversary. The crowd was almost entirely female; Gone with the Wind handbags abounded, and at least one wristwatch bore the iconic image of Rhett and Scarlett's smoldering onscreen embrace. Though most wore street clothes, some ladies had arrived in 1860s-ish period dress, their dedication eclipsing both the melting late-afternoon heat and the outfits' flagrant anachronisms—clip-on chignons, hemlines revealing reputation-shattering amounts of ankle, synthetic fabrics not invented in Mitchell's lifetime.
Until recently, I was only vaguely acquainted with Scarlett O'Hara. I was raised in Tennessee by multigenerational Southerners and grew up visiting Civil War battlefields on field trips and family vacations. I went to college in Atlanta—Mitchell's hometown and the setting for most of her opus—and have lived here ever since. But my knowledge of Gone with the Wind was only sufficient enough to know that Rhett Butler's most famous line from the movie perfectly summed up my sentiments regarding the whole franchise: frankly, my dear, I didn't give a damn.