December 12, 2013 | by Sadie Stein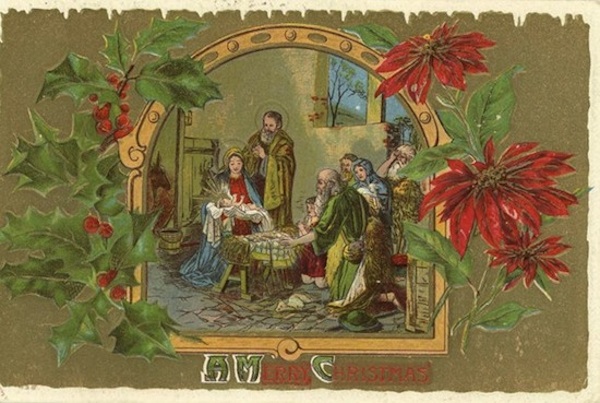 Mine is not a family given to ritual. We are too chaotic, too scatter-brained, too disorganized. Because my parents' marriage is "interfaith" (a word I have never once heard them use, and which seems to imply more faith than was in fact mingled), religious holidays were sketchy affairs and, beyond the six-foot hero that graced our Halloween open house and the Teeny-Bean jelly beans we ate at Easter, our year was not marked by a series of traditions.
The one exception was, and is, the Festival of Nine Lessons and Carols at Saint Thomas, the gray stone Episcopal bastion on Fifth Avenue. It has been many years since anyone but me has agreed to accompany my mother to the service (my brother never fails to voice scorn based on a long-ago middle school soccer game against the Saint Thomas Boys' Choir School) but maybe that is as it should be: she likes to claim that I, in fetus form, first kicked during the service. The New York iteration takes place the Sunday before Christmas, but it is of course based on the King's College Choir service which the BBC has broadcast on Christmas Eve from Cambridge since 1928. Read More »
October 13, 2011 | by Rachael Maddux
"Close your eyes," the man told us, and we did. "If you died today, do you know for sure if you would go to heaven? If you don't, raise your hand." When my hand curled slowly into the air, two strangers rushed over to me, kneeling one on either side of my metal folding chair, as if I'd just been struck down on a busy street. They greeted me in warm, soft tones. One opened a small leather-bound book and ran her fingers along the close-set type, then inclined the page towards me. She underlined a passage with her fingernail and commanded me to read it.
For if you tell others with your own mouth that Jesus Christ is your Lord, and believe in your own heart that God has raised Him from the dead, you will be saved. For it is by believing in his heart that a man becomes right with God; and with his mouth he tells others of his faith, confirming his salvation.
At my feet, the two strangers blinked up at me expectantly. "I think I misunderstood the question," I lied, because I hadn't. Read More »