Posts Tagged 'Chiara Barzini'
May 2, 2012 | by Clancy Martin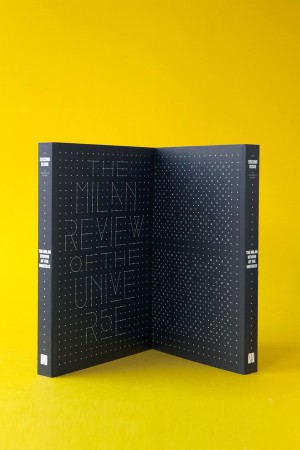 The Milan Review—or, to give it its proper title, The Milan Review of the Universe—is an egregiously handsome literary magazine published in English, in Milan, under the editorship of the improbably named Tim Small. The second issue includes work by some of our own favorites, among them Amie Barrodale, Chiara Barzini, Francesco Pacifico, Lynne Tillman, and, not least, Clancy Martin, whose story the Milanese have kindly let us reprint below, in a spirit of international fraternità, and in light of the patchy trans-Atlantic distribution that our two journals have in common. Auguri! —Lorin Stein
Randy knocked on my door and when I opened it I expected he would attack me with the tennis racket in his hand. I had only bought pot from him before. He had no reason to hate me. But in his mind I am a rich white person.
"Emily's not home," I said. Emily is my girlfriend and I suspect, though do not know, that she has had sex with Randy at least once, or perhaps lots of times. He is younger and lither than I am. Probably better hung.
"She's not home?"
"Right." I kept my eyes on the racket. Also on his eyes, because you can anticipate a blow that way. Everyone narrows his eyes and looks where he's going to hit you before he strikes. This is the first lesson of boxing.
"She promised she'd buy this racket from me. I got this racket special. From my daughter."
Randy, Emily had told me, had a high school–age daughter who was expected by many people to be the next Serena Williams. She lived with her mother in the Bronx and was sponsored by Puma. I noticed the tennis racket had a broken string. Emily was hiding in the bedroom all this time and had instructed me to tell Randy that she was out. I could not decide whether that was reassuring or suspicious.
Emily had had her infidelities.
"How much does she owe you for the racket?"
I took the racket from his hand which he gave me without hesitation, although he looked down and away from me when he said, "Thirty dollars," which meant he was lying. Probably he had told her he would give her the racket for free. But who knew what more tangible price she had promised to pay. Perhaps eagerly.
I briefly considered beating Randy on the face, head and shoulders with the very light and surely durable racket. We have tile in our stairwell and blood would mop up easily without staining. Randy was not the type to come back with a gun. That would be the last we'd ever see of him. I should have done it. Read More »