Posts Tagged 'Chairman Mao'
January 12, 2012 | by Jeremiah Moss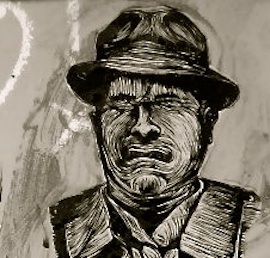 It's the final weekend for Ray's Pizza, the true original, which has been on Prince Street since 1959, so I head down for a last slice.
3:55 P.M. From the East Village I take a roundabout way, across Houston Street, where the two artists known as Faile (Patrick McNeil and Patrick Miller) are putting the finishing touches on their giant mural, a comic-booky collage that brings to mind the organic degradation of street advertising and art, layer upon layer, ripped and peeled. The city is like this in places, one stratum revealed beneath the next, except in the places that have been excavated down to bedrock to make the past disappear. I end up talking to one of the Patricks while the other Patrick is pasting a Chairman Mao to the wall. Patrick tells me how the images and text have all been pulled from comics, movie posters, and other ephemera. He says, "We consider ourselves scavengers" of pop culture. And then Chairman Mao needs direction. "Tear it a little more," Patrick tells Patrick. "A little more. That's right."
4:05 P.M. Houston takes me to Eldridge then to Stanton, where I think to detour into the Fusion Arts Museum, one of those places I've been meaning to visit but never have, only it's not Fusion Arts anymore. It's a new gallery, something called Lambert Fine Arts. The once colorful gate of bicycle parts, propellers, and bombs has been painted solid gray. I go inside anyway and check out Terrenceo's paintings on pizza boxes, portraits of people taking their own photos in mirrors with cell phones, our tepid new expression of despair. Downstairs, Allison Berkoy's spooky dolls are muttering to each other with their talking video faces, none of them listening to what the others have to say. Read More »
December 12, 2011 | by David Zax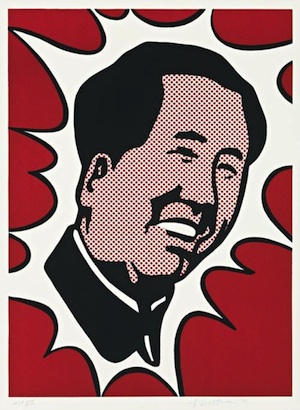 On a recent Sunday evening, in a lounge at the Jane Hotel in Manhattan, the writers Kurt Andersen and Anne Kreamer enacted before an audience the final pages of The Adventures of Mao on the Long March, a 1971 work of literary pastiche by the author Frederic Tuten. Andersen played the role of Chairman Mao, sitting for a fictitious interview. "Have you seen Godard's La Chinoise?" asked Kreamer, playing his interlocutor. "Have you seen Dali's Mao/Marilyn?" "Chairman Mao, perhaps I might ask your opinion on birth control." Tuten himself, a septuagenarian in a black blazer, sat at the front of the room, beaming with happiness at the event held in his honor.
If you have not heard of The Adventures of Mao, you would not have been out of place at its marathon reading. Indeed, some of those who gathered to participate in the reading—a roster including Lydia Davis, Wallace Shawn, Walter Mosley, John Guare, and Edmund White—admitted to having had only a glancing familiarity with the novel or its author. Yet The Adventures of Mao, about, as the title suggests, the Chinese dictator's rise to power, has always had its advocates; Susan Sontag called it "soda pop, a cold towel, or a shady spot under a tree for culture-clogged footsoldiers on the American long march." In 1972, the book achieved that pinnacle of literary attention, the John Updike New Yorker review. Analyzing the novel's five distinct modes—textbooklike history of the Long March; ample direct quotation from the likes of Hawthorne, Melville, and Fenimore Cooper; passages of literary parody of authors such as Kerouac and Malamud; "normal novelistic substance—imaginary encounters and conversations"; and, finally, that extended interview with Chairman Mao—Updike declared the resulting sum "an intelligent, taut, and entertaining change from conventional novels."
Despite Mao's champions over the decades—New Directions embalmed it as one of its classics in 2005—the event at the Jane Hotel was in some ways an unlikely one. It had all begun in the Strand Bookstore, where three men in their twenties stumbled upon the book and brought it to their book club. Read More »