Posts Tagged 'Bruce Chatwin'
May 14, 2013 | by Sandra Allen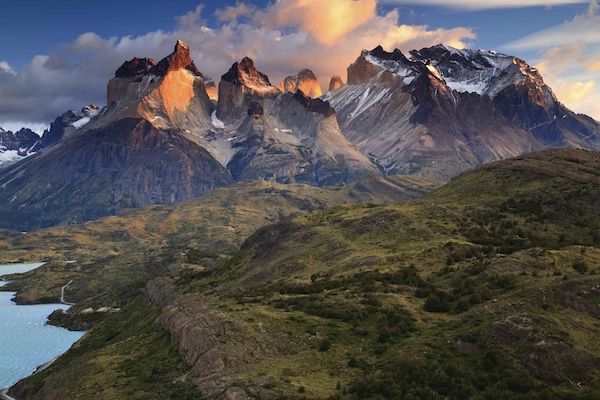 While I was traveling in South America, a friend, a writer, heard I was heading down to Patagonia. At the end of an e-mail he broke into all caps: "DRINK LOTS OF WINE FUCK SHIT UP RIDE A HORSE AND READ SOME BRUCE CHATWIN." Fortunately, my boyfriend and I had been drinking wine and fucking shit up plenty in Argentina already. While I like horses in theory, I haven't had the desire to get on one since I saw National Velvet as a child. His last command, though, made me curse myself—I'd meant to buy a copy of the Chatwin before leaving the states. I figured it was now unlikely I'd find a copy in English. The next afternoon, we entered a Palermo Viejo bookstore. High on a shelf in the brief English-language section, I excitedly located a shrink-wrapped copy of the Penguin Classics edition of In Patagonia.
In his smart introduction, Chatwin biographer Nicholas Shakespeare describes his own experience of reading In Patagonia in Patagonia: "One morning, in a gesture soon to be repeated by a generation of backpackers, I was waiting for a bus in the dusty scrubland west of Trelew when I dug out a book I'd brought with me … I'd never heard of the author, but his was the only contemporary book I could find about my destination. I opened the first page and I read the first paragraph and that, really, was that." Shakespeare summarizes the oft-told circumstances surrounding the book's inception: There had been a bit of mangy, ancient hide in Chatwin's grandmother's cabinet of curiosities when he was a boy. It was from a brontosaurus, he'd been told, from Patagonia. This scrap—which actually belonged to a Patagonian ancient sloth—ignited a spark that lingered in Chatwin's imagination. As an adult he'd already been Sotheby's auctioneer and an archeologist before turning to writing. After years of work on an unsuccessful manuscript, he was reminded of his desire to visit Patagonia by octogenarian designer and architect Eileen Gray. It had long been her dream to visit Patagonia, as well, and she told him to "go on my behalf." So he did. It is said—perhaps mythically—that he sent a cable to his employer, the London Sunday Times Magazine, stating, "Have gone to Patagonia." He wasn't heard from for months.
The manuscript he delivered to his editor, which was published in 1977, was career defining. It has been credited with reviving the moribund "travel writing" genre. It's also safe to say it birthed intrigue about Patagonia in the minds of his many readers—Shakespeare's "generation of backpackers." In a story about hiking in Chilean Patagonia from early this year in the New York Times, Ondine Cohane writes that she'd wanted to travel to Patagonia ever since she'd read In Patagonia twenty years before, in high school. She writes that the book "drew me both to the place and in no small way to the profession of travel writing itself." While Shakespeare is an exception to this trend—he had visited Patagonia in his youth before returning with Chatwin in tow—he states that of all the authors he'd read on the place, "none had validated my Patagonia as Chatwin had."
I admittedly didn't know much about Patagonia before going there; it was my boyfriend's dream more than it was mine. Back home, I had glanced through some Lonely Planets and Rough Guides and only half-pictured lots of empty space and perhaps some beautiful peaks. By the time I'd finished Shakespeare's introduction to the Chatwin, I felt convinced I'd never needed a book as badly as I needed In Patagonia in Patagonia. Read More »
February 12, 2013 | by Kelly McMasters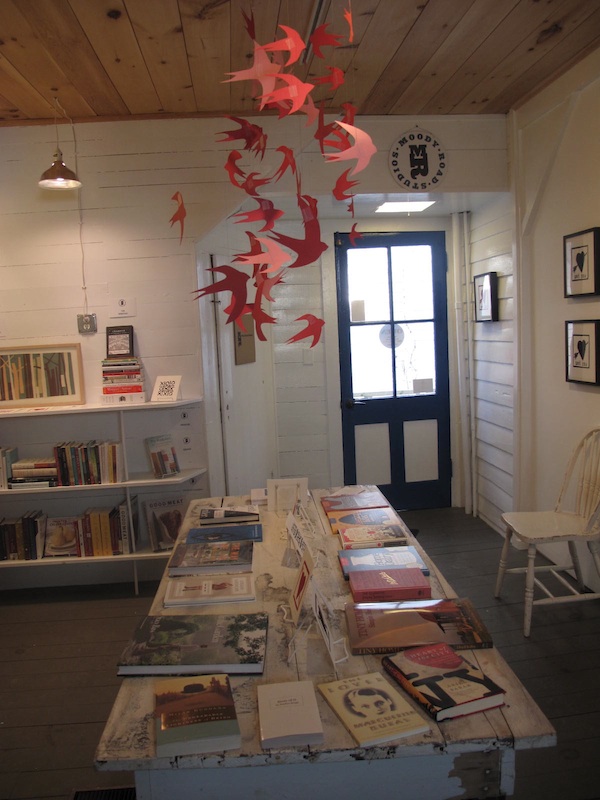 Sitting alone in my tiny bookshop on a cold February morning, I have the sensation that I've conjured a dream into reality. The light is crisp and blue through the door. A flight of red paper swallows—a Valentine homage to Chaucer's poem "The Parliament of Fowls"—hangs from the ceiling, fluttering quietly from the heat whooshing out of the floor grate. The room is small, just shy of two hundred fifty square feet, and an old pickled farm table sits squarely in the middle. The top of the table is covered with books, and the shelves lining two of the room's walls also contain a patchwork of brightly colored spines.
Valentine-themed woodblock prints handmade by my husband line the farm table and a grid of nature-inspired prints hold a wall. We live on an old dairy farm up in northeast Pennsylvania, and instead of cows in our three-bay English barn, we have two etching presses. Mark carves the images into blocks of clear pine, inks them up, and sends them through the press, cranking the smooth silver wheel like a captain on a ship. This is our store together, a kind of celebration of works on paper. We live on Moody Road, and so we call the shop Moody Road Studios.
An artist and a writer, respectively, my husband and I had both been teaching and working in the city for more than a decade, until a little over a year ago. The idea of running a bookshop never entered our consciousness while in New York, mostly because it never could have happened. Space and funding were impossibilities—as one might guess, a writer and an artist in business together don't quite make for a crack commerce force. But here, on Main Street in the small town of Honesdale, everything clicked into place. Read More »