Posts Tagged 'Breaking Bad'
September 27, 2012 | by Elisabeth Donnelly
It's difficult to quantify the strange magic of Gregory Crewdson's photography, but here's a stab: his photos, mostly of American towns that could be any dead mill town (the colors too bright, the light too spooky) create such an evocative mood that the viewer becomes part of the story. His work has to the power to linger in the brain long after seeing it: on days when the light filters just so through the trees, when an average, mundane moment takes on the qualities of eerie, ethereal beauty, it's very easy to identify it as a Gregory Crewdson moment, a particular alchemy of the earthbound and the spectral.

The documentary Gregory Crewdson: Brief Encounters is a beautiful and contemplative look at Crewdson's process, focusing on when he was working on Beneath the Roses, a multiyear project that brought film crews of sixty or so people to small towns in the Berkshires of Massachusetts to help produce his large-format photos. The film, a ten-years-in-the-making work directed by Ben Shapiro, is an intimate look inside Crewdson's artistic process. Since that's covered in the documentary, I wanted to talk to Crewdson about one of his big inspirations, the cinema. Crewdson invited me to his studio and home in the Berkshires, a former church hidden behind a fence, where we (along with another writer, Stu Sherman) had a free-ranging conversation starting with the movies and edging over into his work. We started, of course, with Mad Men, which Crewdson calls "the greatest work of sustained art in the past ten years, and I'd include any movie or book or art work, so that shows you what I think of it."
When it comes to Mad Men, do you like the set design and period detail?
I think it's perfect in so many different ways, but it's so beautiful to look at, so exquisitely detailed and rendered. The light's so beautiful and the decor all fits together like a complete, perfect set piece.
It's funny that you love Mad Men so much. I have to admit that when I watch Breaking Bad—or even just seeing stills of characters, like of the wife, Skylar, on the bed—they're very reminiscent to me of your work.
My pictures are very much influenced by movies, but it's weird because now it seems like the opposite happens, and now it's like the movies use my pictures as reference. It's a dialogue or something. I guess it just happens.
July 16, 2012 | by Andi Teran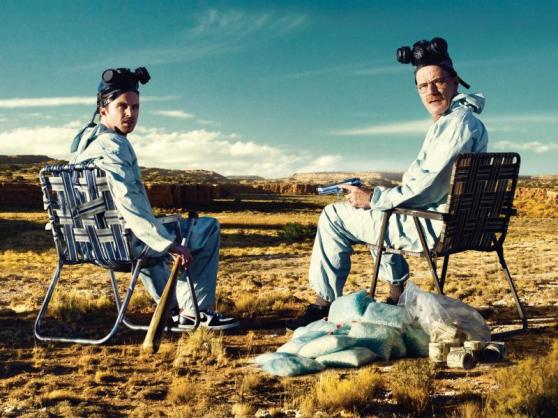 There's a moment when thunderclouds smother the sunset and the chile ristras begin to sway, when bits of smoldering earth intertwine with invisible rain, and you're tangled in tumbleweed magic. Everything is burnt orange and cactus green, clay-tinged and warm. There's mystery disguised as menace, comfort in spite of storm, and the sky gives off a phantom light that makes the concrete seem cinematic. This is the desert Southwest, my homeland, also known as Breaking Bad country.
If you've made the television journey with Walter White—from tightey-whitey chemistry teacher to hairless drug kingpin—you're already familiar with the show's desert setting of Albuquerque, New Mexico. It acts as a silent character that, to me, is also its most important.
Read More »