July 29, 2011 | by The Paris Review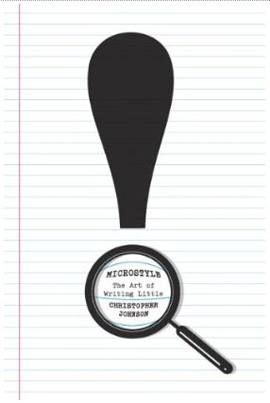 I am buying Christopher Johnson's Microstyle: The Art of Writing Little after reading Dwight Garner's review in the New York Times. Johnson is a branding consultant (he worked at Lexicon Branding, a firm that has invented names such as Blackberry and Powerbook). "'Feminine' brand names," he writes, "like Chanel, are often iambs; 'masculine' ones, like Black & Decker, tend to be trochees." —Thessaly La Force
In an effort to reclaim my childhood, I dug up Edward Gorey's The Epiplectic Bicycle: "It was the day after Tuesday and the day before Wednesday. Embley and Yewbert were hitting one another with croquet mallets." Need I say more? —Eli Mandel

I picked up Sara Wheeler's The Magnetic North for a brief respite from the city heat, but now I'm itching to hitch a ride on an ice breaker, wrangle up some reindeer, and embark upon that great milky abyss, the Arctic circle. —Mackenzie Beer
I just saw the documentary Page One, which was described to me as an "inside look at the production of The New York Times." Really, it's more of a riveting love letter to journalism. David Carr, the media columnist on whom the film focuses, is humorous, gritty, and lovable—exactly my idea of the perfect newspaperman. —Sophie Haigney
The winners of this year's Bulwer-Lytton bad-sentence contest outdid themselves. My favorite: "As I stood among the ransacked ruin that had been my home, surveying the aftermath of the senseless horrors and atrocities that had been perpetrated on my family and everything I hold dear, I swore to myself that no matter where I had to go, no matter what I had to do or endure, I would find the man who did this . . . and when I did, when I did, oh, there would be words." —Sadie Stein
In anticipation of John Berger's Bento's Sketchbook, I've been paging through I Send You This Cadmium Red, a book of correspondence between Berger and the artist John Christie. Their first letter is a painted square of color—the eponymous color, of course—which leads them to exchanges on everything from the blue of Yves Klein to the blue of Matisse. The accumulation is a monument to friendship, art, and the art of letter writing. —Deirdre Foley-Mendelssohn
Continuum took two things that I love—music writing and books that  fit in my back pocket—and put them together to make a series that is my favorite thing ever. I plan to get through all eighty-three books, each of which contains a critical discussion of one classic album. Up first for me was Nas's Illmatic. Up next? Maybe My Bloody Valentine's Loveless. Or Neutral Milk Hotel's In the Aeroplane over the Sea. —Cody Wiewandt
If book reviews could kill. Slate has three golden rules for reviewing. —Ali Pechman
Just in case anyone forgot, Splitsider reminds us of the sexual shenanigans on Friends. —C. W.
Watch all nine minutes of this video, where the life of a baby humpback whale is saved after it becomes dangerously entangled in a nylon fishing net. —T. L.
June 2, 2011 | by A. S. Hamrah
"Liz Taylor knows it, the president knows it, the bum knows it, and you know it." —Andy Warhol
Coca-Cola is the brand par excellence, the marca di tutti marche, the brand the other brands dream about being (even though the brands never sleep). Nothing else is even close. When it comes to what a brand is, Coke, as they say, is it. According to the branding consultancy Interbrand, Coke has a "brand value" of seventy billion dollars, which is twelve billion more than its nearest competitor, IBM. That's a strange measurement, brand value, because it takes several nebulous things into consideration, including probably love. While many people are fond of Coke, some of them to the point of addiction, who even likes IBM?
Coke's status is not merely economic or pop cultural or emotional or psychological. Coca-Cola transcends those categories to compete in the broader realm of speech, of monosyllables. We're told that Coke is the second most recognized word in any language, after okay.
There are 6.9 billion people in the world, and according to The Coca-Cola Company they drink 1.6 billion Cokes a day. I don't have the figures for this, but it may be that right now the only thing people on this planet are doing more than breathing is drinking Coke. There may be more people drinking Coke this very minute than sleeping. There may be more people drinking Coke than awake.