Posts Tagged 'bookmobiles'
May 21, 2012 | by Sadie Stein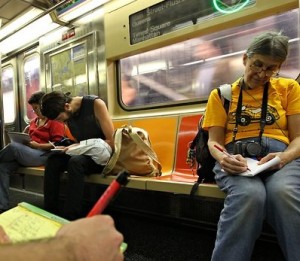 This writers' workshop is inspired by the 7-train commute.
Feel-good alert! A good samaritan bails out an endangered Vermont bookmobile.
One affair, two sides of the story: when both cuckold and cad give their versions, and, by the way, the latter is John le Carré.
The Marriage Plot, coming to a multiplex near you. (Okay, maybe not a multiplex.)
Jay McInerney: "I was fortunate to get a lot of mileage out of my vices."

April 23, 2012 | by Sadie Stein
I've had a soft spot for bookmobiles ever since I read 1964's career romance for young moderns, The Girl on the Bookmobile and learned how much pleasure and knowledge these roving libraries could provide!
It was a trimly built van-like conveyance. At the rear, the doors swung open to show a miniature room equipped with shelves already stocked with books, a tiny desk, and racks clipped wherever a stray space presented itself.
(Romance and the dissemination of books ensue.)
You can imagine how thrilled we were by the 1928 Bookmobile Boing Boing showed us a few days ago and, now, by Flavorwire's roundup of mobile books around the world! Check out the whole thing, but here are a few of our favorites. We don't see why bookmobiles shouldn't join food trucks as a twenty-first-century craze!