January 7, 2015 | by Dan Piepenbring
New paintings by Mamma Andersson.
Mamma Andersson's new exhibition "Behind the Curtain" opens tomorrow at David Zwirner. Andersson, who was born in Sweden and lives in Stockholm, paints with a muted palette—she tends to draw from old photographs and films, theater sets, and well-preserved interiors. There's a look-but-don't-touch quality to her subjects, as if she's visited some quiet museum, or snuck backstage, and has decided to flout the no-photography policy by simply painting the view instead. And so what should feel aloof or antiquated feels intimate, almost even illicit. These are things we're used to seeing at a remove or covered in dust: busts, stays, thrones. Looking at her paintings reminds me of that voguish phrase, secret history, that's cropped up in dozens of titles and subtitles lately.
"All of us who've become artists, musicians, poets, dancers, film directors—God knows what—we were all once children who loved to delve into our other ego, where anarchy and limitlessness reigns," she told BOMB in 2007: "If (healthy) schizophrenia can keep capitalism at bay, maybe we all should be much more schizophrenic than we are. I think it's nice to be muddled."
"Behind the Curtain" is at David Zwirner through February 14. Read More »
December 12, 2011 | by David Zax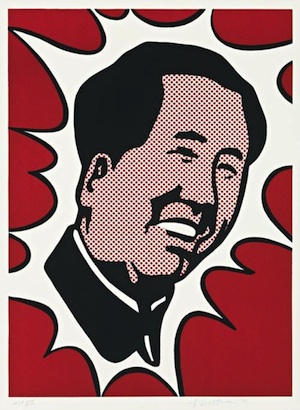 On a recent Sunday evening, in a lounge at the Jane Hotel in Manhattan, the writers Kurt Andersen and Anne Kreamer enacted before an audience the final pages of The Adventures of Mao on the Long March, a 1971 work of literary pastiche by the author Frederic Tuten. Andersen played the role of Chairman Mao, sitting for a fictitious interview. "Have you seen Godard's La Chinoise?" asked Kreamer, playing his interlocutor. "Have you seen Dali's Mao/Marilyn?" "Chairman Mao, perhaps I might ask your opinion on birth control." Tuten himself, a septuagenarian in a black blazer, sat at the front of the room, beaming with happiness at the event held in his honor.
If you have not heard of The Adventures of Mao, you would not have been out of place at its marathon reading. Indeed, some of those who gathered to participate in the reading—a roster including Lydia Davis, Wallace Shawn, Walter Mosley, John Guare, and Edmund White—admitted to having had only a glancing familiarity with the novel or its author. Yet The Adventures of Mao, about, as the title suggests, the Chinese dictator's rise to power, has always had its advocates; Susan Sontag called it "soda pop, a cold towel, or a shady spot under a tree for culture-clogged footsoldiers on the American long march." In 1972, the book achieved that pinnacle of literary attention, the John Updike New Yorker review. Analyzing the novel's five distinct modes—textbooklike history of the Long March; ample direct quotation from the likes of Hawthorne, Melville, and Fenimore Cooper; passages of literary parody of authors such as Kerouac and Malamud; "normal novelistic substance—imaginary encounters and conversations"; and, finally, that extended interview with Chairman Mao—Updike declared the resulting sum "an intelligent, taut, and entertaining change from conventional novels."
Despite Mao's champions over the decades—New Directions embalmed it as one of its classics in 2005—the event at the Jane Hotel was in some ways an unlikely one. It had all begun in the Strand Bookstore, where three men in their twenties stumbled upon the book and brought it to their book club. Read More »