Posts Tagged 'board games'
September 24, 2014 | by Christopher Urban
War game as money pit.
When you're growing up, having a brother close to you in age means you're never alone. There's someone to share your clothes and chores, your blame and punishment, and, as was my case, your bedroom—my brother and I were together even in a state of sleepy unconsciousness. The second of my two oldest brothers predates me by a mere ten and a half months. When we were young everyone thought we were twins; even we secretly thought so for a while. A major, if less apparent, perk of our bond was that we could partake of enthusiasms we wouldn't have wanted others to know about—not our friends, nor the girls we had crushes on, nor anyone, really.
The summer before high school we stumbled on something unbelievably uncool. If we hadn't had each other for company, I like to think we wouldn't have given the endeavor a second thought. We had our reputations to uphold, after all. His was being cool—he was a drummer in a punk band whose members, including a female bass player he would later start dating, were much older than he was. My brother drank a can of Mountain Dew every morning for breakfast and wanted everyone to know about it. I had considerably less to lose: I awkwardly straddled the world of jocks and skateboarders, with mixed results. But since my brother and I had each other, we found no reason to limit our interests, however obscure, unpopular, or geeky they may have appeared, and however much they might have jeopardized us in the eyes of our peers.
The pursuit I speak of is Warhammer 40,000, a dystopian, futuristic tabletop war game set in the forty-first millennium, a combination of Risk and Dungeons & Dragons with a sci-fi twist. Read More »
January 14, 2013 | by Sadie Stein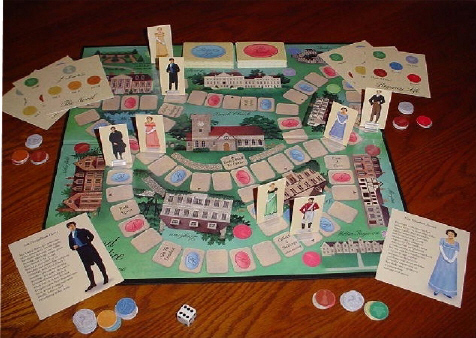 In honor of the two hundredth anniversary of Pride and Prejudice, one might do many things: reread the classic 1813 comedy of manners, watch one of the many adaptations, engage in a little country dancing. May we suggest a genteel round of Pride and Prejudice: The Board Game? Play Darcy or Elizabeth, deal with misunderstandings and cads, travel from Longbourne to Pemberley. The goal, of course, is to end with a wedding.