Posts Tagged 'Birmingham'
July 3, 2012 | by Margaret Eby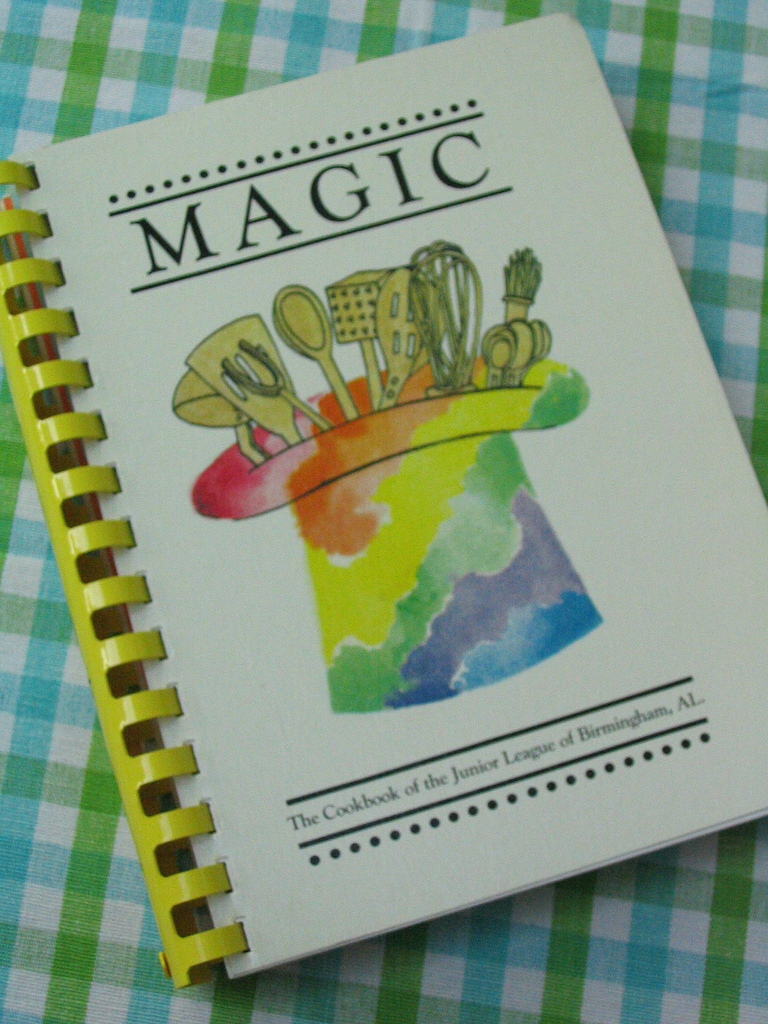 The local Junior League cookbook is the culinary bible of the Southern home. Every kitchen of my Alabama childhood had at least one well-worn copy of Magic, the Junior League of Birmingham's 1983 recipe collection, with an enticing yellow-spiral binding and entries on everything from shrimp salad to banana pudding. Some would also have a copy of Palates, Platters, and Other Such Matters, the JLB's 1950 edition, notable for its more liberal inclusion of lard and mayonnaise. Like every Junior League cookbook, the recipes were sourced from the community and thus varied wildly both in quality and in method of preparation. Still, the hand-me-down wisdom from Birmingham's residents on how to properly prepare venison skewers or pimiento-cheese eggs had an authority that no celebrity chef or French instructor could muster. They were part of the trusted pantheon that my parents, whose taste ran more to grilled fish and apple pies than deep-fried catfish and layer cakes, would consult whenever a dish needed some extra flair. When I moved up to New York for college, my mother bequeathed me the most useful items she could think of for the journey: a ceramic teapot, a CD of Thin Lizzy's greatest hits, and a copy of the newest JLB cookbook, Food for Thought.
It was part homesickness, part tiring of the endless meal-plan tuna melts that caused me to leaf through Food for Thought for more than just the pictures and familiar contributor names. (In scanning the index of recipes, certain contributors jumped out: the mother of a junior high crush, the organizer of the reception of my first and only debutante event, the family for whom my high school auditorium was named.) Sandwiched between essays waxing nostalgic about grits and poking fun at California cuisine were the dishes that taught me how to cook in earnest. After teenage years full of longing for escape from my muggy Southern home, I began, in my little dorm on 116th Street, clumsily making vats of overly spiced gumbo and punch bowls of mint juleps for my bewildered but grateful roommates. Read More »
August 30, 2011 | by Chris Flynn
Most dust jackets list only literary accomplishments, but I've always been a fan of offbeat author bios. So I asked some of my favorite writers to describe their early jobs.
Darin Strauss: I worked freelance at The Aspen Times as a nightlife correspondent: seven hundred words for fifty bucks, an article a month. Then I thought, Hey dummy, you published with The Aspen Times, you should go to New York and write for their Times! It didn't work out. I lived with my parents on Long Island and delivered Chinese food. To avoid the embarrassment of being seen doing this, I took a gig at a restaurant two towns over. My first day, a girl opens her door to me, and it's someone I went to summer camp with. "Darin," she says, somehow unsurprised to find me on her doorstep. "Good timing. Come in, I just ordered Chinese food." I told her I knew, I knew.
I finally got a job at a financial technology newsletter, where I wrote stories with openings like: "Morgan Stanley is reported to be buying the Telerate trading platform to replace its Thomson real-time, turning from Unix to tcb/ip servers, with four hundred real-time end users." I never bothered to learn what any of that meant; I wanted to keep my mind free for fiction. I was going to write, write, write. I thought I'd be fired instantly. When my boss said, "Telerate's TIB is in trouble with its real-time market data platform—find out if data delivery is ... ," I didn't know whom to call, what to ask, even what I was supposed to do if I found out. Some kind woman gave me a list of questions to ask, and some numbers to call. Three years I worked there, interviewing people without a clue what I was asking.
Deb Olin Unferth: In Birmingham, Alabama, I taught "self-esteem" in the Department of Family Services waiting room, where four or five hundred people showed up at seven in the morning and waited for hours—sometimes six, seven hours—for their appointments to get food stamps, or to sign up for welfare, or to meet with their caseworker about the children who had been removed from their homes and placed in foster care. My main activity was to get them to play self-esteem bingo. I handed out blank cards, and people were supposed to write adjectives that described them in the spaces. I provided a sample list: "beautiful," "smart," "funny." I'd call out the words and when someone said, "Bingo," I'd read their card aloud and say, "Now does she have a good self-esteem or a bad self-esteem?" and whoever didn't completely hate me by that time would chirp, "Good self-esteem!" And I'd give the winner a tiny cheap notebook and say, "Here's a place for you to write your hopes and dreams."
Chris Flynn is the books editor at The Big Issue and the fiction editor at Australian Book Review.