July 11, 2012 | by Eli Mandel
Sometimes in life you get yelled at. No matter your moral fiber, it can't be avoided all the time. It happens in Marine Corps boot camp; it happens in rush-hour subway cars; it happens if your mother catches you reading Lady Chatterly's Lover at an impressionable young age. But one place you don't expect to get harangued, one place where the lid's supposed to stay on the pot, is poetry.
So cracking open D. H. Lawrence's seemingly innocuous Birds, Beasts, Flowers is a bit of a shock. Lawrence is, of course, better known for his novels and short stories; verse can unleash in him an irritating Whitmanesque mania, an exhibitionist verbal autoeroticism. But that's not the case here. You flip past the title page and the index to the first poem, "Pomegranate," and before your eyes can adjust to the typeface, you're in trouble. Big trouble:
May 4, 2012 | by Sadie Stein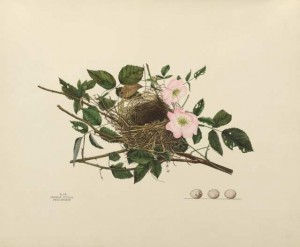 Here is a lovely story: a book finding a well-deserved audience 125 years after the author self-published it. The book is Illustrations of the Nests and Eggs of Birds of Ohio, and the author a twenty-nine-year-old naturalist and illustrator named Genevieve Jones. To quote the Princeton Architectural Press,
Inspired by viewing Audubon's lithographs at the 1876 World's Fair in Philadelphia … Genevieve Jones began working on a companion volume to The Birds of America, illustrating the nests and eggs that Audubon omitted. Her brother collected the nests and eggs, her father paid for the publishing, and Genevieve learned lithography and began illustrating the specimens. When Genevieve died suddenly of typhoid fever, her family labored for seven years to finish the project in her memory. The original book, sold by subscription in twenty-three parts, included Presidents Rutherford B. Hayes and Theodore Roosevelt among its subscribers. Only ninety copies of the original book were published in 1886, and fewer than twenty-five copies now remain in institutions and private hands.
In PAP's America's Other Audubon, author Joy Kiser reproduces all sixty-eight of Jones's color lithographs, as well original text, photographs, field notes, and a key to eggs and birds. It's a boon for those with an interest in natural history or ornithology, of course, but we are as engaged by the personal story as the beauty of the book itself. An enduring memento indeed.