Posts Tagged 'Bill Cotter'
April 18, 2014 | by Scott Cheshire
Issue 208 of The Paris Review includes Bill Cotter's story "The Window Lion," which pairs remarkably well with his new novel, The Parallel Apartments. In fact, they're related—but I'll let Cotter talk about that. The novel is the sort of book that invites opposing adjectives: it's sexy and repellant, "brainy" and full of "heartfelt joy" (Heidi Julavits); it's comic but also relentlessly, tragically sad. I spent much of my time while reading the novel trying to articulate its tone. I got this far: "the image of Walt Disney's dick was a revelation."
Cotter agreed to a talk on the phone—he lives in Austin, Texas. We spoke for well over two hours, about writing, reading, the idea of "a Texas novel," and his day job as an antiquarian book dealer and restorer. He has an excellent vocabulary and an imagination that's far-out and fantastic.
While reading, I was reminded of a favorite quote, from William James—"To better understand a thing's significance, consider its exaggerations and perversions … learn what particular dangers of corruption it may be exposed to." The novel, especially with regard to sex and relationships, seems a distorted version of reality, a kaleidoscope of exaggerations.
I like the idea that verity can be glimpsed by bending mirrors and chipping lenses. In fact, I don't know how to get at the truth of characters in any other way. I don't know how to send characters on movie dates, have them play tennis on a sunny day, or sit them down for turkey and mashed potatoes. In order to get at them for real, it's necessary, for me, to dress them in silly clothes, hack off their fingers, smear them with ptomaine, then stick them between the sheets or pitch them starved into a cage or just let them rush around erecting bearing walls too weak to hold up the trembling rafters. It's in the busted minds of troubled offspring, or among bones not quite picked clean, or poking out of the smithereens of collapse that I think the true truths are found. Read More »
March 3, 2014 | by Dan Piepenbring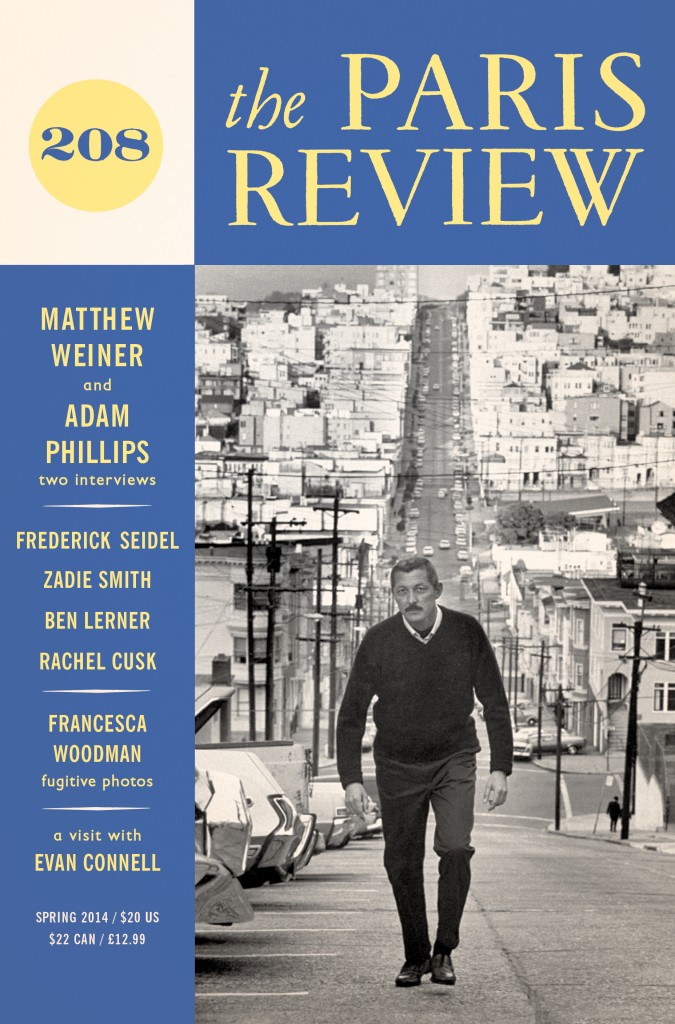 Our new Spring issue is full of firsts. That fellow on the cover is Evan Connell, whose first novel, Mrs. Bridge, originated as a short story in our Fall 1955 issue.
Then there's our interview with Matthew Weiner, the creator of Mad Men—the first Art of Screenwriting interview to feature a television writer. Weiner discusses the influence of T.S. Eliot, John Cheever, Alfred Hitchcock, and The Sopranos on his work:
Mad Men would have been some sort of crisp, soapy version of The West Wing if not for The Sopranos. Peggy would have been a climber. All the things that people thought were going to happen would have happened … The important thing, for me, was hearing the way David Chase indulged the subconscious. I learned not to question its communicative power.
And in the Art of Nonfiction No. 7, Adam Phillips grants us our first-ever interview with a psychoanalyst; he discusses not just his writing but his philosophy, and the importance of psychoanalysis:
When people say, "I'm the kind of person who," my heart always sinks. These are formulas, we've all got about ten formulas about who we are, what we like, the kind of people we like, all that stuff. The disparity between these phrases and how one experiences oneself minute by minute is ludicrous. It's like the caption under a painting. You think, Well, yeah, I can see it's called that. But you need to look at the picture.
There's also our first story from Zadie Smith; fiction from Ben Lerner, Luke Mogelson, and Bill Cotter; and the second installment of Rachel Cusk's novel, Outline, with illustrations by Samantha Hahn. Plus new poems by John Ashbery, Dorothea Lasky, Carol Muske-Dukes, Geoffrey G. O'Brien, Nick Laird, and the inimitable Frederick Seidel, who will be honored with the Hadada Award next month at our Spring Revel.
And a portfolio of previously unpublished photographs by Francesca Woodman.
It all adds up to an issue sure to put a spring in your step.