Posts Tagged 'Bernadette Mayer'
February 1, 2016 | by William Corbett
Last September, Columbia University's Rare Book and Manuscript Library opened "The Book Undone: Thirty Years of Granary Books," an exhibition celebrating Columbia's purchase of the Granary Books archive. "It's difficult to fully describe the range and impact of Steve Clay's Granary Books," wrote Mark Dimunation, chief of the Rare Book and Special Collections Division of the Library of Congress. "Beginning in 1985 he has concocted a mix of poets, artists, printers and craftspeople whose work defines an era and fundamentally shapes our understanding of the artists' book."
Granary Books began in Minneapolis, but when Clay first visited New York in 1986, he was quick to see an opportunity. "I came to do a one-week summer class in Columbia's Rare Book School," he remembered when we spoke in his Manhattan loft, "my first time in New York. Just coming to the city, getting off the bus at Port Authority, that was it." Three years later, Clay arrived in New York to stay. After looking for a space on the Lower East Side and Soho to start a bookstore, he joined forces with the poet and bookseller David Abel. I asked him to talk about those first years of Granary Books.
We found 636 Broadway, doing it together with no formal plan. On the tenth floor you could display books, artist's books, that you couldn't on the ground floor. I lived there on the couch for months, took showers at David's on Thompson Street. Milk carton on the window ledge. No kitchen. David knew a lot of people, perfect for a shy guy like me. Dick Higgins of Something Else Press came into the store and so did the poet Jerome Rothenberg, who became and remains essential to Granary. We put on a retrospective show of Something Else Books. Higgins gave me great advice on how to deal with the projects people who came to the store suggested—You're going to have to find a really nice way to say no.Read More »
September 7, 2012 | by The Paris Review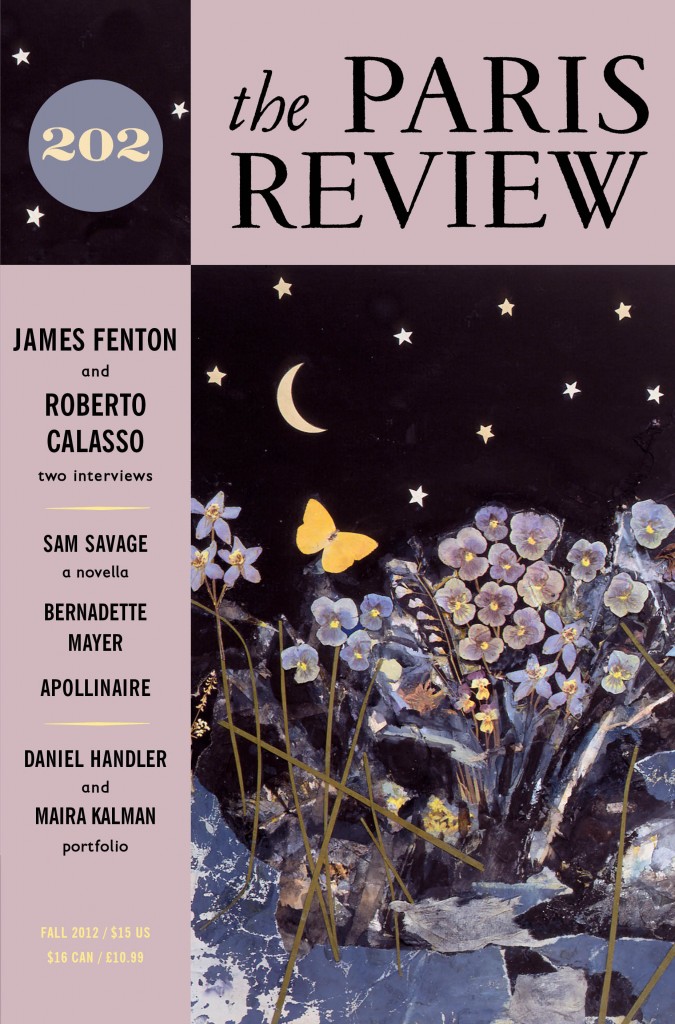 We all hate to see summer end, but don't despair: we bring you our Fall issue by way of consolation! And there's so much to love.
James Fenton on journalism, shrimp farming, interior decoration, gardening, poetry, opera, and more:
What I had got from my teaching experience in the Midwest was a feeling for the enormous pressure on people in the poetry world to conform to an entirely negatively defined notion of poetry. It doesn't rhyme, it doesn't have any rhythm one might detect, and it isn't written for the ear but rather the page. It seemed de-natured. These poets had forgotten the lips and the limbs, the dance, the whole bodily element—that had been banished. The manifesto was a piece of devil-may-care. It was actually anti-Iowa rather than anti-American.
Roberto Calasso on life, film, and publishing—Italian-style:
The publisher after all is considered, especially in Anglo-Saxon countries, a rather eccentric entrepreneur or impresario—a businessman in a very improbable field. But, if he is successful, then he is a good businessman. The author is the successor of the saint, everyone respects the author. So to put the two elements together is highly suspicious in a way, especially in the rather moralistic Protestant countries. In the Latin countries, less so.
Plus! Fiction by Jim Gavin, David Gordon, Ottessa Moshfegh, Peter Orner, and Sam Savage. Poetry by August Kleinzahler, George Seferis, Bernadette Mayer, Jason Zuzga, and Guillaume Apollinaire. A portfolio by Daniel Handler and Maira Kalman, and collages by Jess.
[tweetbutton]
[facebook_ilike]