Posts Tagged 'Bedford Avenue'
March 12, 2012 | by Christopher Bollen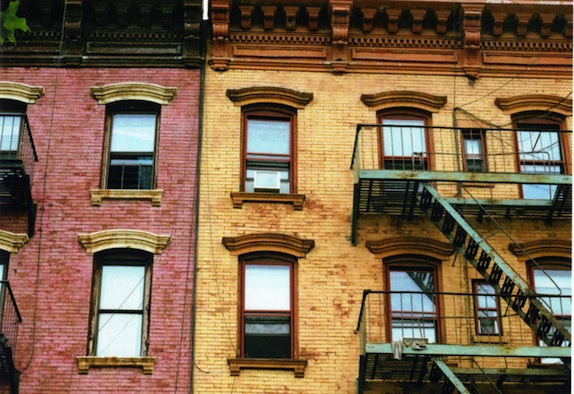 "Love amid apocalyptic urban debris, love amid pimps and drug pushers, love on staircases scattered with used needles … can barely pay the rent." This was not an atypical note to find myself jotting down in my early twenties, part of a scribbled, half-legible foray into a novel I would never write. I wrote this in 2002, three years into my very first no-lease, single-occupant New York apartment and one year before I would eventually leave it, fleeing on grounds of emotional distress for a nondescript studio in Gramercy across from the Thirteenth Precinct (note my subconscious need for police protection). The cloying repetition of the word love suggests a rather flagrant tendency toward romanticizing crime and poverty, the ellipses symptomatic of someone too undisciplined to develop a thought. The only real character of this imaginary novel is the building. At least it was for me during the years that I called 314 Bedford Avenue, between South First and South Second streets on the grimy, sun-bleached south side of Williamsburg, my home.
To pass by the six-floor tenement now is not to see the building I lived in a decade ago. DuMont Burger has replaced the Puerto Rican dry cleaners in the street-level store front, where I never recall a single person entering or exiting with pressed shirts or anything approximating a claim ticket. Green metal café tables have taken the place of the wheelchair-bound homeless man with no legs who lived and slept seated for nine months of the year outside the entryway, his single mode of communication being "don't touch me!" whenever anyone asked if he needed help. The building's facade, still the color of a sick tongue, seems to have been water blasted, and the fire escape has been skinned and painted. As New Yorkers, we all live in a peculiar state of location upgrade, a kind of reverse Manderlay, where places we had once known have outpaced our own internal soft-focus (as an exercise, I recommend replacing the word nature with real estate developers in the opening page of Rebecca). Memory must do the decay work of time, and it is here at 314 that I remember the black, rusted iron gates of the front door, the hallway swabbed in yellow plaster, the chipped linoleum floor tiles attempting a marble mosaic, the five flights up to my apartment where, even drunk at 2 A.M., I had to be careful not to step on syringes, used condoms, sleeping prostitutes, and take-out ketchup packets. Read More »
February 13, 2012 | by Sarah Manguso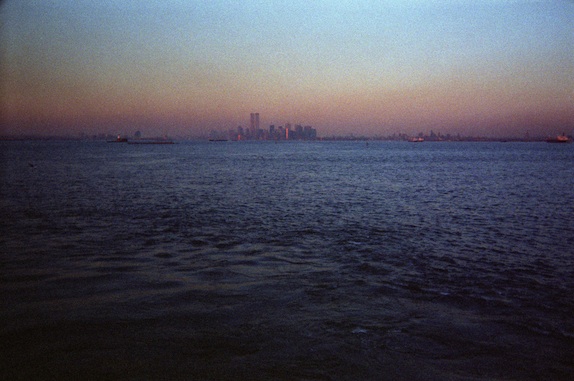 The Thursday edition of the Riverdale Press carried a story that began An unidentified white man was struck and instantly killed by a Metro-North train last night as it pulled into the Riverdale station on West 254th Street.
The train's engineer told the police that the man was alone and that he jumped. The police officers pulled the body from the track and found no identification. The train's 425 passengers were transferred to another train and delayed about twenty minutes.
***
When college was over, we all moved to New York. Harris's mother cosigned a lease for a loft apartment in Manhattan, on Chambers Street, and for the next decade, a lot of people we knew lived there for a week or a month or a few years.
The third-floor loft, a photographer's former studio, was fourteen hundred square feet and had a small bathroom with a door, a tiled area with a refrigerator and a stove, and a smaller area in the opposite corner, about four by six feet, raised eight inches with some plywood.
I bought some cheap red velvet and hand-sewed a curtain to surround those twenty-four square feet and mounted a bar on the two open edges. I hung my clothing on wire hangers begged from the dry cleaner around the corner, borrowed a narrow futon and a plastic crate from Harris, and lived there for two and a half months.
My ten-foot-high window looked south onto the World Trade Center. It was so close I didn't need to think about it. When I woke up, it was there, filling the window with its mirrors.
My roommates paid more rent than I did and lived in office cubicles separated by drywall. It was more than a year before anyone figured out how to put up a ceiling. As we fell asleep at night, we spoke to each other in the dark like brothers and sisters. Sometimes someone played music in his cubicle so we all could hear it.
After a while we instituted a rule against that, trying to force the illusion of privacy. Read More »